Learn what you should consider when choosing a program to connect
So, you've signed up for the Travelpayouts platform and created at least one Project with information about your channels. Congratulations! The next step is connecting your Projects to programs in order to get access to affiliate tools.
Don't worry if you feel overwhelmed by the 60+ options in the Travelpayouts program catalog. We've prepared detailed instructions to help you navigate choosing a program.
How to choose an affiliate program
When choosing an affiliate program for your Project, it's important to consider your requirements and goals. We recommend paying attention to the following criteria:
Audience
Understanding your audience is critical. For example, if you have a project about low-cost backpacking around Europe, it's logical that your readers are primarily interested in the cheapest deals. To be profitable, you'll need to cater to those needs and choose affiliate programs that provide low prices for tickets and accommodation.
If you're unsure about what your audience wants, you can use tools like Google Analytics or other analytics tools to analyze their behavior. Conducting surveys can also be helpful.
Pay attention to parameters such as the gender and age of your readers, what countries and cities they're from, who they work for, what places they visit, their interests, what they search for online, etc. This will help you know your audience better and select programs that match their interests.
Program category
The program category should be relevant to your resource.
For example, if you have a website about road-tripping, it's best to connect to the programs from categories such as Car & Bike Rentals, Hotels & Accommodations, etc. Tools from programs in the Cruises category are unlikely to interest your readers, which means you're less likely to generate a high conversion rate and earn rewards.
You'll find the following categories on the Travelpayouts platform:
Flights

Hotels & Accommodations

Tours & Activities

Insurance

Transfers & airport services

Trains & Buses

Car & Bike rentals

Cruises

Package Tours

Other
To find programs from each category, use the filter in the program catalog. You can select multiple filters at the same time.

Program terms and conditions
You can find a program's terms and conditions in the About tab on the program profile page. To open the program page simply click on the program name in the catalog.
We recommend thoroughly reviewing the information in the About tab to ensure you don't miss any details about the program.
Pay attention to the following:
Rate

–

your reward amount for the target action.
While a high rate in a program may seem tempting, it's not the only factor to consider. It's also important to take into account the types of traffic the program allows and your audience's interests.
For example, placing a link from a car rental program on a site where the main audience doesn't have a driver's license isn't ideal. You won't get high rewards as readers will simply skip past the link. In this case, you'd have more luck with the programs from the Trains & Buses category.
Cookie lifetime

— the period of time your Travelpayouts

ID

is stored in cookies in the user's browser, thereby generating revenue for you for each booking made by that user.
The longer the cookie lifetime, the more likely you are to receive a reward, as users often need time to think before going through with a purchase.
Language.

Make sure to choose programs that support languages that your readers will understand. For example, an Arabic-language widget is unlikely to get many clicks from your Spanish-speaking audience.

Target countries

— this refers to the regions from which a brand accepts traffic. In other words, users must make a booking in one of the program's accepted countries for you to earn your reward.
Analyze where your readers are located and choose programs that will pay rewards for actions taken in those countries.
You can filter programs by language and target countries in the catalog: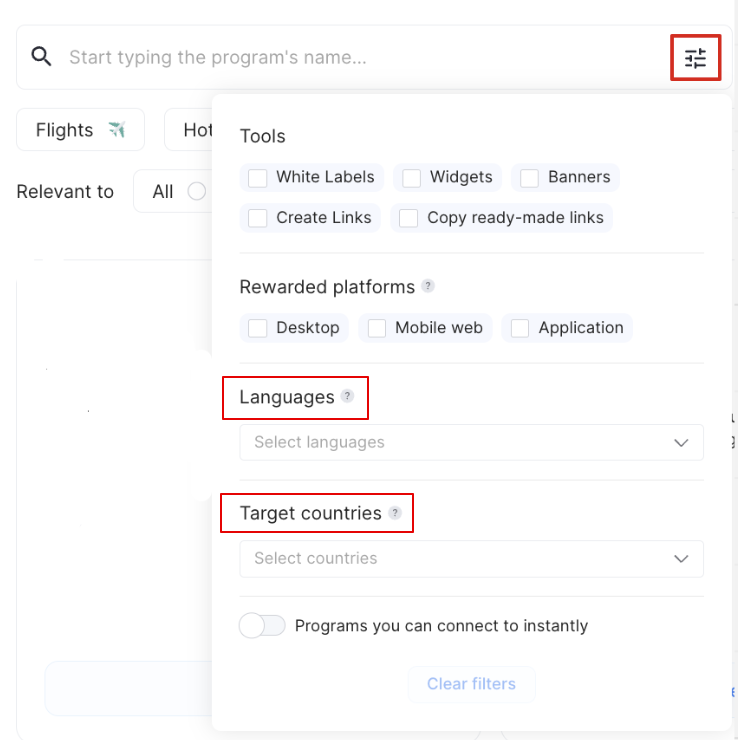 Allowed brand promotion methods and channels
Each program has its own requirements for traffic. You need to find an option that matches the conditions of your existing traffic.
You can read more about the different types of traffic and what they mean in this article.
To see what types of projects and traffic the program allows, go to the program, open the About tab, and find the Allowed brand promotion methods and channels section, which describes in detail what types of traffic are allowed for different categories of projects.
Be sure to read the article About paid search to learn about all the nuances and rules of this type of advertising.
Approval from the brand
After choosing a program on the Travelpayouts platform, you'll either connect immediately after submitting an application or after receiving approval from the brand.
This will determine how quickly you can connect to the program and access its affiliate tools. In the first case, it happens instantly. In the second case, you have to wait until the brand approves your request.
If you're just starting with Travelpayouts, choose programs that allow you to connect without prior approval. This will give you immediate access to the affiliate tools so you can start placing them on your resources.
You can find more information on how to connect to the programs in this article.
Tools
The tools you have at your disposal depend on the affiliate program you've connected to. Some programs have all kinds of tools, while others only offer a few.
You'll find the following tools on the Travelpayouts platform:
Consider which tools make the most sense for you. For example, if you don't have a website, you might focus on programs that provide links. Advanced developers, on the other hand, might be interested in programs with API.
So you've chosen a program. What's next?
Once you've chosen a program, connect to it to gain access to affiliate tools and start placing them on your resources.
For more information, check out these articles:
If you just can't decide which program to go with, contact our support team. We're here to help.
Don't forget to head to our blog and read the articles under the Brands section. They're full of useful information and tips!