Additional Plugin Settings
You can start using the Travelpayouts plugin immediately after you enter your Affiliate Token and Marker. To configure Additional Plugin Settings, go to Settings > Settings.
Attention! After the plugin installation, all Additional Settings will be set to default. Changing them is optional.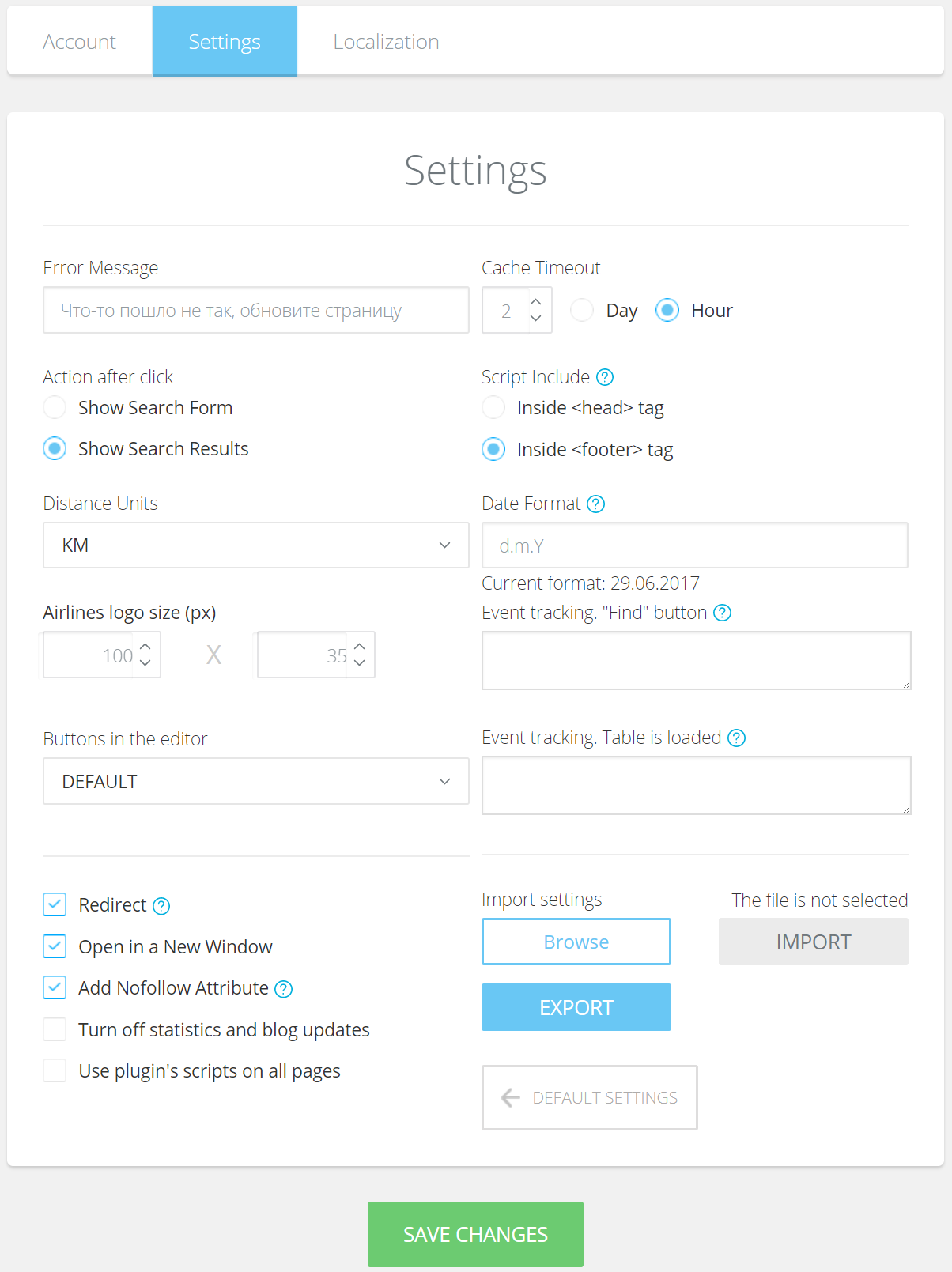 Error Message – Enter the text message to be displayed if a server connection error occurs.
Action after click

Show Search Form – a visitor will be redirected to a page on our website that includes a completed search form. In this case, a search button should be pressed to see the search results.
Show Search Results - a visitor will instantly be redirected to the search results page that features available hotel and flight bookings according to information specified in the widget/table.

Distance Units – available options:

KM - kilometers;
M - miles (for U.S. audience).

Airlines Logo Size (px) – supported image size: from... to...
Buttons in the editor - size of buttons.
Redirect – a 301 redirect will be activated.
Open in a New Window – a link will be opened in a new window.
Add Nofollow Attribute – all links will have a nofollow attribute set as default.
Turn off statistics and blog updates - turn off statistics and blog updates if you get any errors.
Use plugin's scripts on all pages - check if you want then tables work in the sidebar, in comments block and ets.
Cache Timeout – time the data is stored in the databapressingse. Cached data is loaded faster.
Script Include – a place to include the script of the plugin.

Header – website header. The script will be loaded first, before the website content.
Footer – script will be loaded after all website content is loaded. Widgets and tables can be loaded with a delay in this case.

Date Format – all WordPress standard date formats are supported.
Event tracking. "Find" button - the key of event for Google Analytics.
Event tracking. Table is loaded - the key of event for Google Analytics.
Settings Import – import of previously exported settings.
Export – export of current settings to a file.