Plugin Widgets Settings
You can start using widgets in your posts immediately after the plugin installation. If you must customize the Widget properties, go to the Widgets section.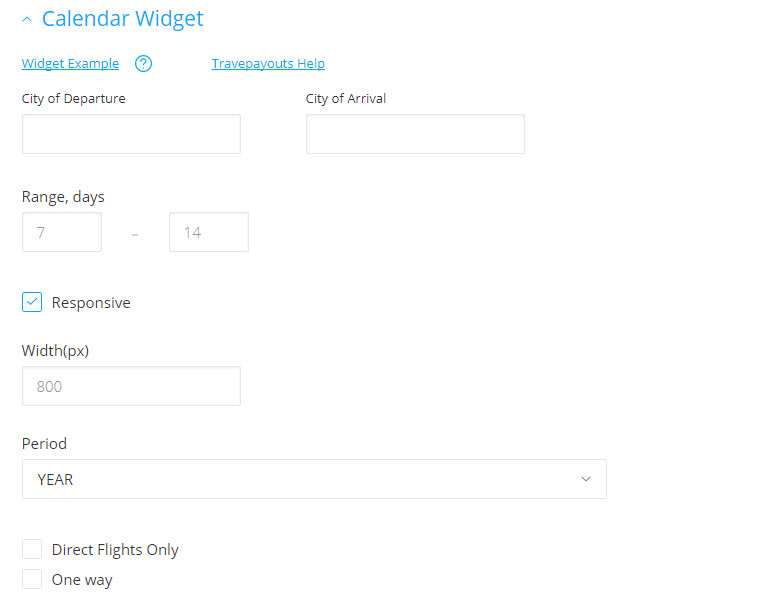 Widgets properties:
Help link:

Widget Example - hover to see a preview of the widget;
Travepayouts Help - a reference to the article on this widget in our knowledge repository.

Number of Widgets – number of widgets on a single page.
One Way – check to display only one-way flights.
Draggable – check to make the map draggable.
Select Color – map style customization.
Additional Marker – use Additional Marker to track clicks in a widget.
Destination – specify the city of arrival.
Disable Zoom – apply a maximum map zoom limit.
Origin – specify the city of departure.
Period – specify the vacation period.
Size (px) – widget size.
Pin Size – specify map pin size in pixels.
Responsive – some of our widgets are responsive. They will automatically fit to the page size.
Hide Logo – check to remove the Aviasales logo from the widget.
Direct Flights Only – check to display only flights with no stops.
Scroll Wheel Zoom – check to enable mouse scroll zoom on an embedded map.
Width (px) – widget width.