Configuring offers widgets
Many offers in Travelpayouts affiliate network have custom widgets. You able to change the style, title, or select the values that will be in the fields of the widget by default.
Please pay attention! Facebook, Vkontakte and other social networks prohibit posting third-party code. For work through social networks, use your affiliate links.
To configure the widget and get its code for posting on your website, go to the Hotellook affiliate program, select Tools and there is the "Widgets" section.
To move to the widget editor, click the Costomize button. If the button is missing, the setting is not possible.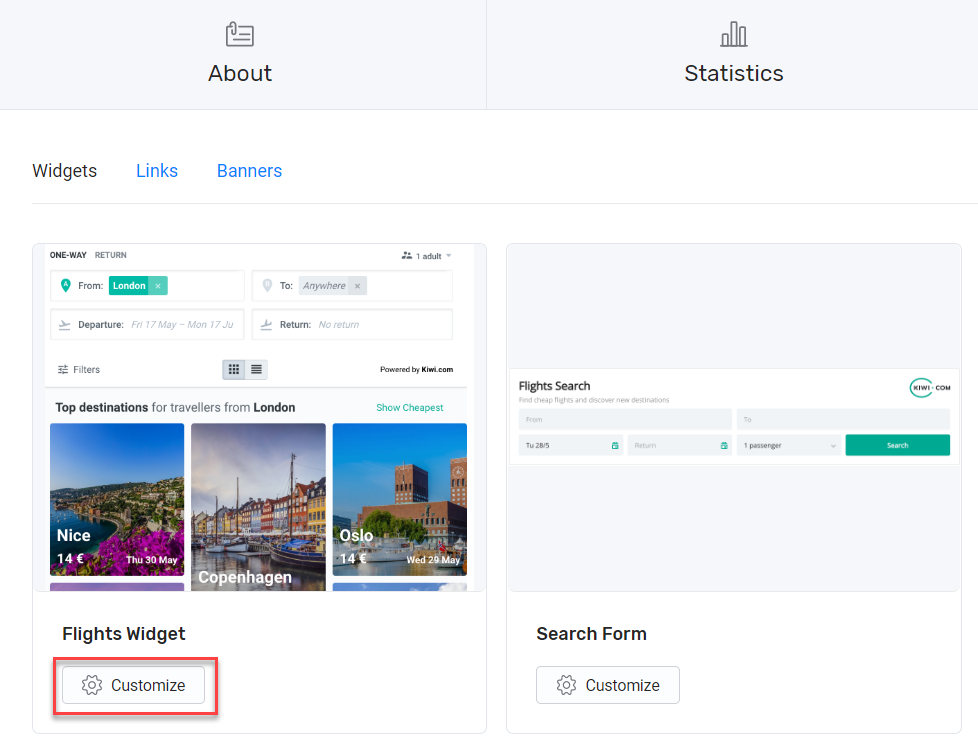 In the setup mode there you will see a form consisting of two parts. The bottom part contains the widget's customizable settings, and a preview is displayed at the top. Preview allows you to see exactly on how the widget will look on the website. Each time you change parameter values at the bottom, the upper one automatically changes.

Basic parameters that are found in the widget settings (each widget has its own set of customizable fields):
Width;
Background color (HEX - format);
The color of the substrate under the shape;
Color of the insurance section;
Backlight color;
Automatically start a search;
Country of travel;
The beginning of the trip;
End of the trip;
Number of tourists;
Type of display (horizontal / vertical);
Animation;
Number of lines;
Number of columns;
The width of the cell;
Appearance - tiles;
Additional content.
If in the widget settings there is a checkbox "start search automatically", then when you open a page with a widget, you can start the search automatically. To start the auto search, you need to specify:
Country of travel;
The beginning of the trip;
End of trip;
Number of tourists.
The Code field displays the automatically generated widget code that you need to copy and paste on the website page.