Hotels map
The widget "Hotels map" shows hotels on the map of a city or a place that tourists choose.
To configure the widget and get its code for posting on your website, go to the Hotellook affiliate program, select Tools and there is the "Widgets" section.
The first step is to configure the size of the map.
Click on the link "Map example" to open the page with different design of the hotels map.
Use the advanced settings to customize the maps.
Location – the default place displayed on the map (if not specified, the system identifies the location of the geoip);
Locale – the language on the map;
Host – the host address;
Additional marker – used for the convenience of statistics;
Draggable – enable or disable moving the map with the mouse;
Disable zoom – enable a limit on the maximum approximation of the map;
Scroll wheel – zoom with the mouse wheel;
Marker Size – set the size of the icon that marks hotels on the map;
Map styled – select the color scheme of the map;
Color scheme – design options and colors of markers on the map;
Embed code – the code of the widget to put it on your page.

hotel_id – the id of the hotel, if you add it to the embed code, the block with the given hotel will be displayed on the map by default. Like this: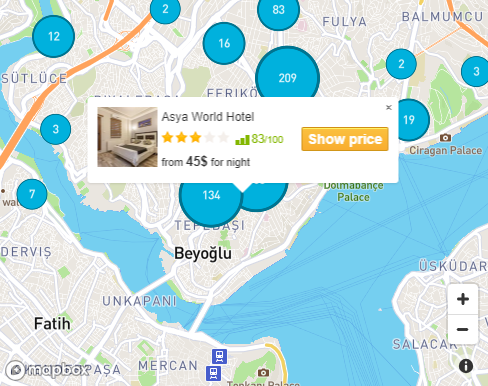 Sample embed code with hotel id:
<iframe src="//maps.avs.io/hotels?color=%2300b1dd&locale=en&marker=16886.hotelsmap&changeflag=0&draggable=true&map_styled=false&map_color=%2300b1dd&contrast_color=%23FFFFFF&disable_zoom=false&base_diameter=16&scrollwheel=false&host=hotellook.com&lat=41.03457&lng=28.980821&zoom=12&hotel_id=730907" height="400px" width="500px" scrolling="no" frameborder="0"></iframe>
You can find out the hotel id in several ways:
Selecting a hotel in the hotel map editor - this parameter should be automatically added to the embed code.
On the Hotellook site on the page of any hotel in the address bar (see screenshot).
Using a special API request.
Example of widget
FAQ
How can I make a hot price map for my own site, like the map at wl.jetradar.com/map?
Set up White Label according to the instructions above. After configuration, a hot price map is available at the address avia.yourdomain.com/map.
Why are there different prices through Jetradar.com as compared to White Label?
Jetradar queries dozens of agencies and airlines to get ticket prices. Not all agencies/airlines support affiliate markers, and we remove these agencies/airlines from our affiliates' search results. (Please note that the number of agencies/airlines is rather small.) This means that, in some cases, prices found through an affiliate White Label may be slightly higher than those on the Jetradar site.