Learn about the payouts report and payment terms for rewards.
The Travelpayouts payment report contains information about all payout transactions. You can find this report in the Finance section in the Payments tab: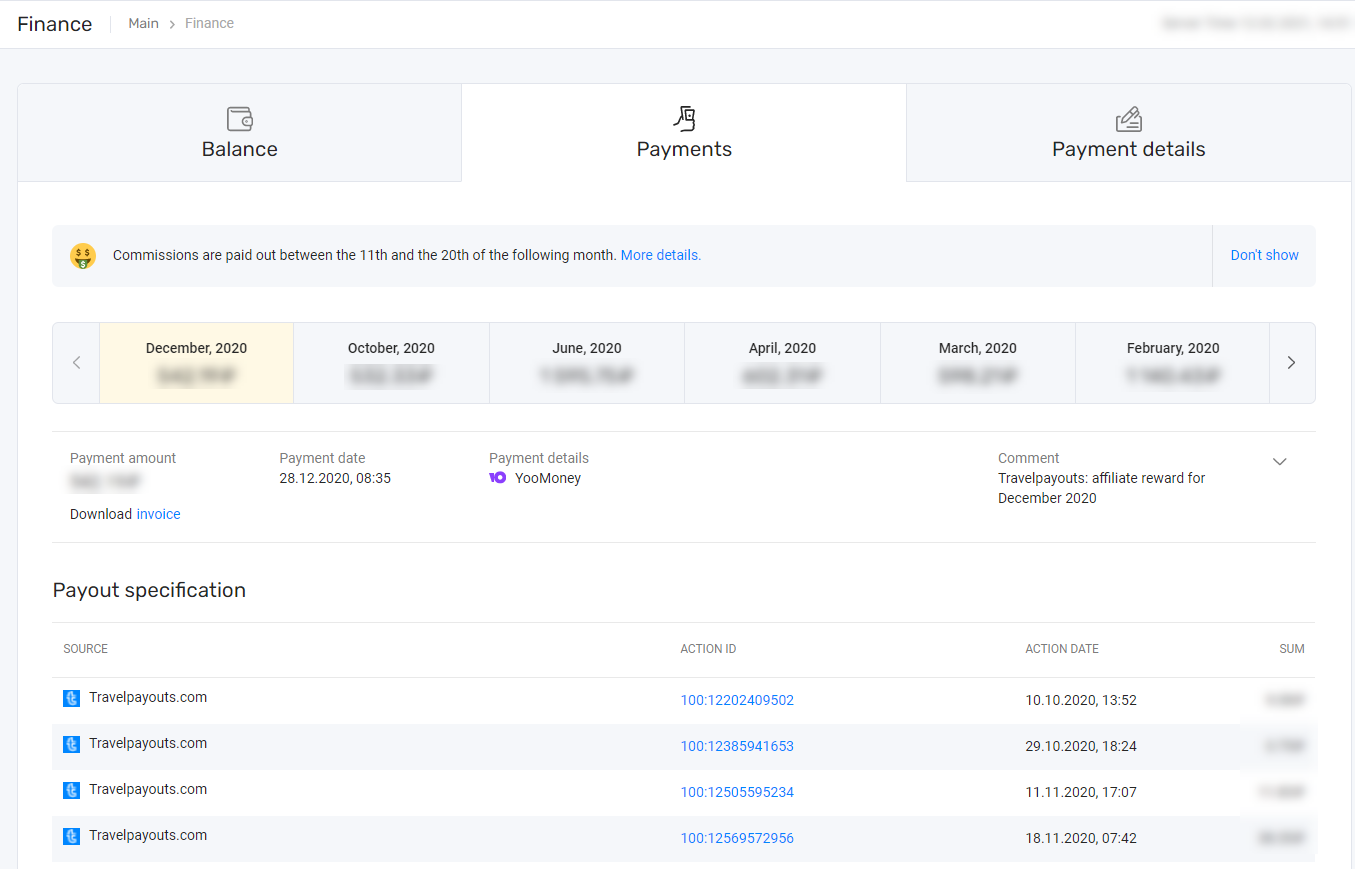 The report shows how much revenue has been transferred to the affiliate's dashboard and over what time period.
Source

— the travel brand paying a revenue (or adjusting the balance)

Action ID — the action identifier
Action date — the date and time of the action
Payment — a payment value
How long do I have to wait for a payout?
Revenue is paid between the 11th and the 20th day of the following month, as long as the minimum amount has been earned.
This means, for example, that the revenue credited to an affiliate dashboard in August is paid between September 11 and 20.
The minimum amount depends on the payout method (see table above). If a partner doesn't earn the minimum revenue amount during a particular month, the amount is carried over to the next month.
Payout process
On the 10th of every month, funds are deducted from the affiliate dashboard and verified.
On the 11th, after verification is complete, payouts begin.
Payouts are made in the following sequence:

WebMoney (within one day)
ePayments (within one day)
PayPal* (within several days, depending on weekends and holidays)
Bank transfer to foreign currency account (USD, EUR)* (within several days, depending on weekends and holidays)
If you still have not received payment by the 20th of the month, contact support.
Partners who request payouts to a bank account can download a Certificate of Work Completed on their dashboard page, in the "Payment report" section.
ZendeskWebWidgetFinanceSection