Hotel widget
Hotel widget
The hotel widget display the brief information about a specific hotel on the page of your site:
hotel;
the number of the stars;
the strengths of the hotel in terms of other tourists;
ratings of hotels.
This widget contains fields for entering the date of placement and departure from the hotel. If a visitor is interested in the hotel, he/she can examine the cost of living in the hotel for specific dates. Price will be displayed in the widget.
Settings of widget
To customize the widget, go to section "Hotel widget" in your partner account.
First of all you can adjust the size of the widget: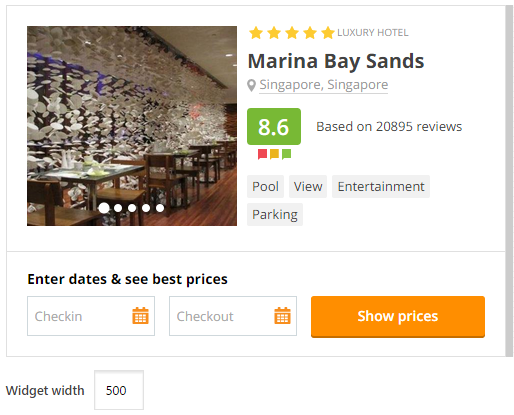 To change the size, type the desired value in the "width of the widget," or pull on its right edge.
The next step - a basic widget settings:

hotel - the name of the hotel, which will be displayed in the widget.
additional marker - it helps to understand the statistics. For example to find out how and what pages visitors went widget (for details about the additional marker).
host - If you plan work with the White Label, select it in this field.
language - the language of the widget. If you choose English, the search would be limited to English-speaking agency.
currency - select the currency in which the price will be displayed.
After all settings are made you should copy the code from the block "Embed" and place it on your site.
Example of widget