When will the revenue for a booking be credited to my account balance.
All travel brands we are partnered with have their own rules as to bookings confirmation process and payment terms.
The actual revenue for a booking is credited to an account balance when the booking is in "Paid" status. Until then, some bookings may stay in "Pending" status, and the potential revenue for such bookings may be displayed in "Potential Income" column. Some brands don't send us the information about the potential income, and it may be displayed as 0 until the booking status is updated to "Paid".
Most bookings in "Flights" category appear in your statistics in "Paid" status right away. The revenue is credited as soon as the travel brand provides us with the information that the booking has been paid by the user. In most cases, it occurs within 24 hours after the booking has been made. However, booking statistics for a few of agencies, including Pegasus, is updated only once a month.
Note: Low-cost airlines, as a rule, do not pay a fee to agents for selling the tickets. This means, we cannot pay profit to partners as we don't receive it ourselves. You can find more information about low-cost airlines in this article.
Hotel bookings first appear in your statistics in "Pending" status. The revenue is credited 2–4 months after the clients check out of the hotel. For example, according to Booking.com rules, the confirmation process takes 60–90 days after the checkout. Trip.com update bookings statuses just 30 days after the check-out date.
Bookings in "Package tours" and "Tours & Activities" categories are usually updated to "Paid" on the tour start date. Some brands, including Viator and Youtravel, update bookings' statuses and pay the revenue after the travel services have been provided.
Brands in "Car rentals" category pay the revenue after the drop-off date. This is typical of such travel brands as Rentalcars, Discover Cars, etc.
To find out the information on how long your booking will stay in "Pending" status, check out the information in "Payment Confirmation Process" in each program's description, for example: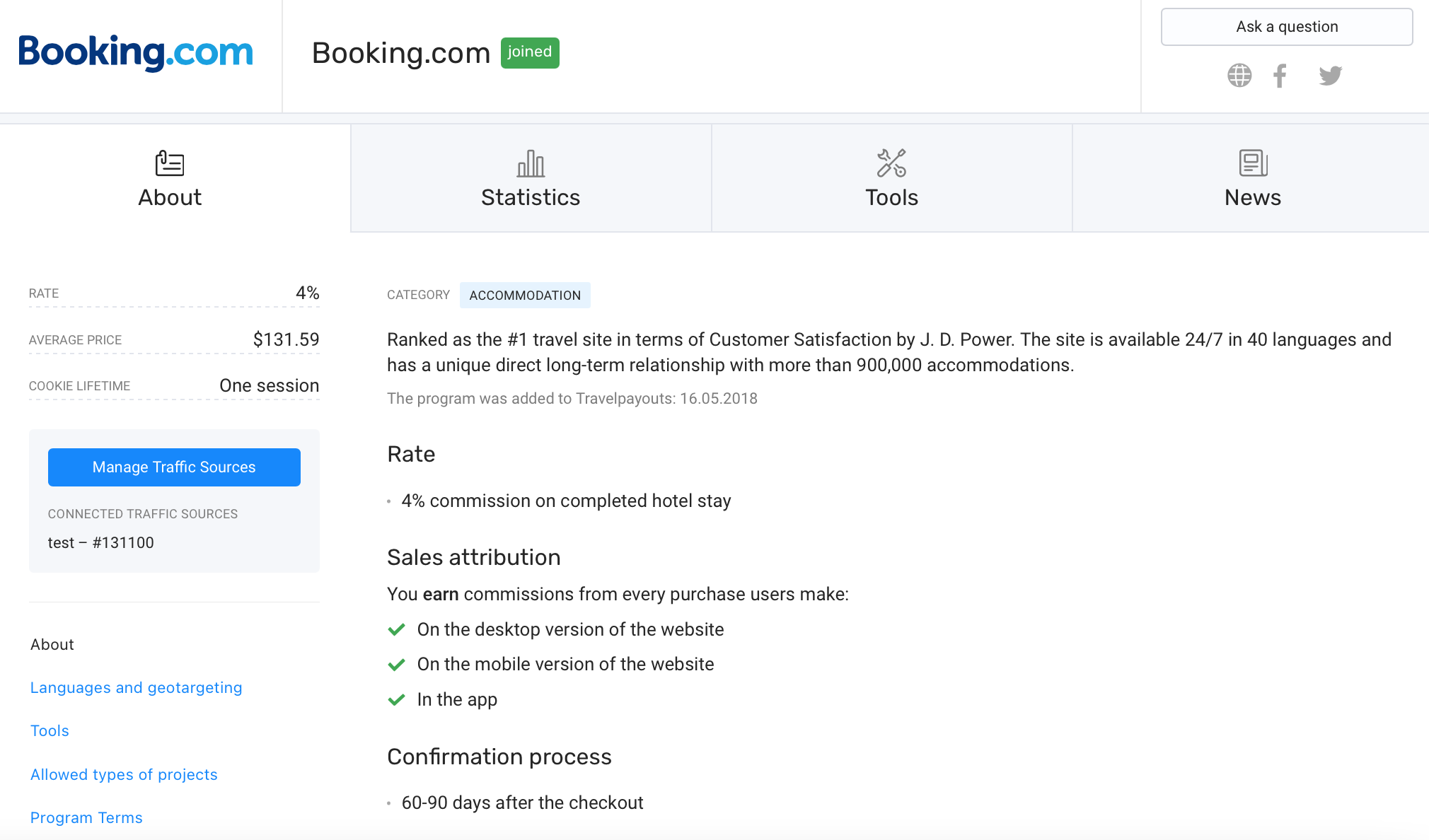 For more information on bookings statuses, please refer to this article.