How to save money with affiliate programs?
Having registered, you'll be able to refund a partial of the price paid for:
airline tickets;
hotel bookings.
How Much You Can Save
Savings can reach around $7 from a purchased ticket, and around $20 from hotel booking.
For each of the other tourist services the amount is different, and described on the services' separate pages.
Does it cost anything?
No, this service is available free of charge.
How to Start Saving
After registration you will get personal links, which will help you to find the best offers. You can find the links here. 
Here is how our affiliate links look like:
Where AffiliateID is your affiliate ID, which can be found in the upper right corner of the Affiliate Members Area: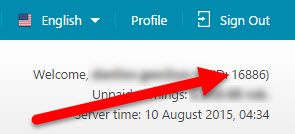 Every time you decide to send your friends a link to an air ticket or a hotel, this marker should be added to every link to Jetradar/HotelLook/Aviasales.
As we have said, be sure to post your links in social media, share the word about the service with your friends, install our apps for yourself and for everyone around you. These actions will enable you to save on your travels and earn on the travels of others.
(!) But please remember: the profits from the purchases made through mobile apps/extensions will be accrued to your account only if you or your friends install them by following these exact links. Each member has a unique link.
Wait, wait... Could you repeat this once more and in more detail?
Sure! The algorithm, which allows to refund a partial of the price paid for purchasing an airline ticket, booking a hotel, etc. looks more or less like this:
We generate unique links for you, which are available here.
You open your referral link in the browser, and make the purchase right there. Add these links to the bookmarks of your browser, so that you can easily follow them before each search/purchase/booking.
At some point you get tired of this, and decide to install our mobile apps using the links we have generated for you earlier.
Keep adoring the convenience and the features of our search.
Count the money on your affiliate account balance. The amount will depend on the number of tickets purchased and hotels booked by following those links.
What should I do if I have problems, or want to return a ticket, or have other questions to ask?
Please, don't confuse things! Our goal is only to find the best offers and refund a part of the offered price, while you do the purchase/booking on our partners' websites.
This means you don't pay us—you pay our partners. That's why all the troubles with ticket returns, mistakes in the documents, etc. should be solved directly with our partners.
If you cannot solve a problem on your own, contact our support service by using this form or by email: support@travelpayouts.com.
Our Affiliates are always number one for us!
What Else Should Be Known
Book hotels through Hotellook and save considerably more than on airline ticket sales, since the commissions—and, consequently, your savings—from hotel bookings are much higher, approximately $20 for each booking.
The payments from hotel bookings are made with a delay, and only after the traveler checks out from the hotel. Please, don't be surprised if you don't see this profit in your Members Area at once. Wait a little, and you'll surely see it there.
If a ticket is purchased on the website of a low-cost airline company (airasia.com, ryanair.com, bangkokair.com, tiger.com, jetstar.com, or flydubai.com) you won't get any profit, since these companies don't pay us any commissions for the tickets they sell. However, to enable the users look for the cheapest airline tickets, we have to show the prices offered by the low-cost airline companies in the search results.
Each additional tourist service should first be activated. You will be able to get your unique link only after service activation.
Are You Sure That's All?
No. We have told you only about the basics here. Travelpayouts has many more tools that you can setup for your website/blog: search widget, hotel map, white label, API, low prices calendar, etc.
More detailed information can be found in the Help section. We strongly recommend that you check out the following articles:
Feel free to contact our Support Team if you still have any questions.