This post explains how travel agencies can start working with Travelpayouts.
What you should know about the Travelpayouts
The use of Travelpayouts tools is totally free. They become available immediately after you register. Unlike traditional booking systems, we don't charge anything to connect you to the network.

We share up to 70% of our earnings generated by your traffic. For example, affiliates earn about 1.1–1.5% from flights booking and 4-5% from hotels booking. Detailed information about the calculation of revenue is

here

.

On average, you earn approximately $7 from the price of a purchased plane ticket and $20 from a hotel booking (assuming the average bill is $400).
You don't need to teach your staff how to work with the booking system. All our tools are intuitive, straightforward, and easy, and ready for use instantly after registration.
When working with us, you can offer your customer a full set of travelling services and get revenue for the sale. The more services you provide (which helps increase customer loyalty), the more you earn.
If you are a webmaster, you can add our ready-made widgets for the search of airline tickets and booking hotels, or create a White Label on your subdomain, which will enable your customers and staff to look for tickets without being redirected to jetradar.com or hotellook.com. You will also be sure that purchases made with your help will be attributed to you
How to work with Travelpayouts
For our relationships to be legal and official, all you need to have as a legal entity is your corporate bank card. You can get it from any of the banks you have been with.
You will need to have a payment card to make purchases. You won't be able to use wire transfer because the payments are made directly through the agencies' and airline companies' websites. Post-payment is not an option, either.
Cooperation algorithm
Learn the customer's needs and find the best offer.
Make sure the search and purchase are completed by following the special link (see Special Links for Buying Tickets). Otherwise, we won't be able to associate the purchase with your affiliate account.
Make a payment with your corporate bank card.
Get the e-ticket or booking confirmation sent to your e-mail. Print it for the customer.
Charge the price of the purchase from the customer, as well as your service fee, which you set on your own. This can be done in any way that's convenient for you, e.g., in cash or through your POS terminal.
Please understand that our goal is solely to find the best offers and to refund a part of the offered price; you will complete the purchasing/booking on our affiliates' websites.
This means you don't pay us — you pay our partners. That's why all issues with ticket returns, mistakes in documents, etc. should be solved directly with our partners.
If you cannot solve a problem on your own, contact our support service by using this form or by email: support@travelpayouts.com.
Our affiliates are always number one for us!
Affiliate links for buying tickets
After registration, you will get your unique links, which must ALWAYS be used. The main thing is to find your individual Travelpayouts marker (it is shown in the upper right corner of the Personal dashboard), and add it to the link. After that, you can perform all the necessary actions: searching, booking, purchasing.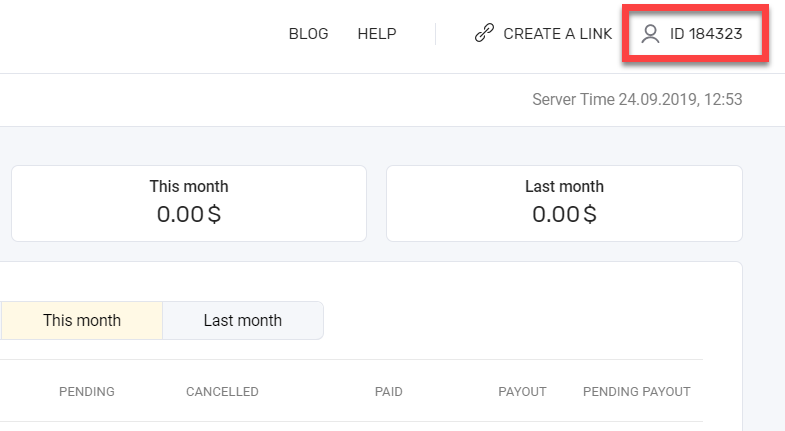 Information about links creation you can find here.
Remember that getting a profit is possible only if you open your affiliate link in the browser and make the purchase right there in the same browser.
To make your life easier, you can install our mobile applications on your mobile devices; it is there where searches and purchases will be made. You can also configure the White Label on your domain.
Please remember! Profits from purchases made through mobile apps / browser extensions will accrue to your account only if you install them by following these exact links.
Note: Your profit depends on the number of tickets purchased/hotels booked, not the number of clicks made on your referral links.
Withdrawals
Payouts are made automatically, once a month, from day 11 to 20, if the minimum withdrawal amount for the given month has been achieved.
You can find details here: Revenue General Information.
Additional information
Important:
Payments from hotel bookings are made at a delay, and only after the travelers' check out from the hotel. Please don't be surprised if you don't see this profit in your affiliate dashboard right away. Wait a bit, and you'll surely see it there.
If a ticket is purchased on the website of a low-cost airline company (airasia.com, ryanair.com, bangkokair.com, tiger.com, jetstar.com or flydubai.com), you won't get any revenue, since these companies don't pay us revenue for the tickets they sell. However, to enable users to look for the cheapest airline tickets, we must show in the search results those prices offered by low-cost airline companies.
Each additional tourist service should first be activated. You will get your unique link only after service activation.
We cannot alter the prices you see. We provide only the search services; we don't sell anything ourselves. The price you see is always a no-haggle one, so it cannot be changed. However, you can charge your customers a service fee for searching, buying and booking, i.e., your profits will consist of the service fee (which you set yourself) and revenue for purchasing/booking (already included in the total price you see in each search result). You can double your profits!
Detailed information can be found in the Help section. We strongly recommend that you read the following articles:
Still have questions? Please feel free to contact our support team.