Hotels Selections
About the widget
This widget develops the idea of the hotel widget.
As from now several hotels (specific or matching certain criteria) can be shown in one block.
Development and setting of the widget
The widget can be set up in the "Hotels Selections" section of a partner's personal account.

The widget settings include:
Widget width – specify the widget width (in pixels) on a page. The width can be also changed by holding of the widget corner using the left mouse button and moving it to the right or to the left. If the "Responsive" variant is chosen, the widget shall be automatically adjusted to the user's screen resolution.
Widget's layout – two variants are possible:

Full – big photos of the hotels;
Compact – small photos of the hotels;

Host - is the website, on which a hotel's offer is opened at clicking on the "Look at the hotel" button. An offer shall be opened on your website if you create and set up the White Label and select it in the domain list.
Language – is the widget language;
Currency – is the currency, in which a room cost is displayed;
Max hotels in list – is the number of hotels, shown in the widget (v. infra if the Prepared selections variant is chosen);
Additional marker – your additional marker.
You can add the hotels to the widget by pressing the By hotels button.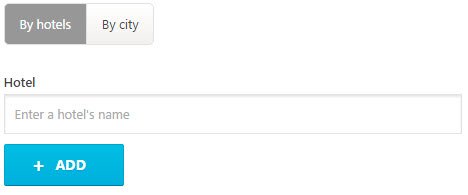 Insert a hotel name into the field. A new hotel can be added by pressing the Add button.
The autocomplete function shall be activated at entering a hotel name. It is used for searching of coincidences of names in the base and their showing in the list under the field.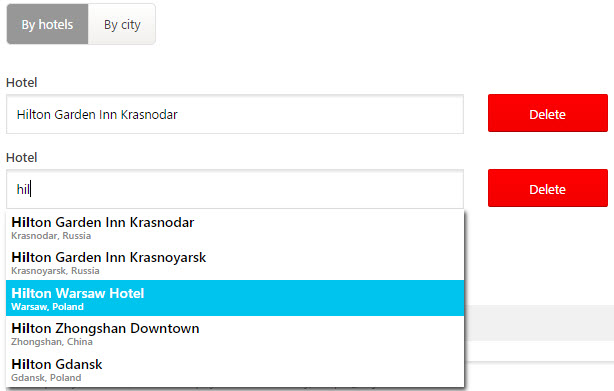 Press the Delete button to delete a needless hotel.
You can add up to 10 hotels into your own selection.
Press the By city for displaying of the formed selection of hotels in the widget.

The City field is given for entering of the name of the city, for which the selection shall be shown. Choose the required selection in the drop-down list after uploading of the selections. Up to three selections may be added. The users shall switch over them using the icons in the top part of the widget.  

After setting of the widget up, copy the code and post it on your website.

Life hack: how to get a collation of hotels for a city
In order to get a collation of hotels for a specific city you should replace a city id code (in the example, given above, this id=30553) with its IATA code. For example, the final embed code for Paris shall be as follows:
<script async src="//www.travelpayouts.com/blissey/scripts.js?iata=PAR&type=full&currency=rub&host=search.hotellook.com&marker=77410.&limit=10" charset="UTF-8"></script>
Upon making of such a modification you shall be able to add the required IATA city code into the widget code almost on-the-fly.
Example of a Hotels Selections widget