Learn about payouts to PayPal and reasons why you might not have received your payout.
After signing up for the Travelpayouts Partnership Platform, you can specify your PayPal details in the following section: Finance > Payout method.
First, click Set button on the PayPal card:
Next, enter your details: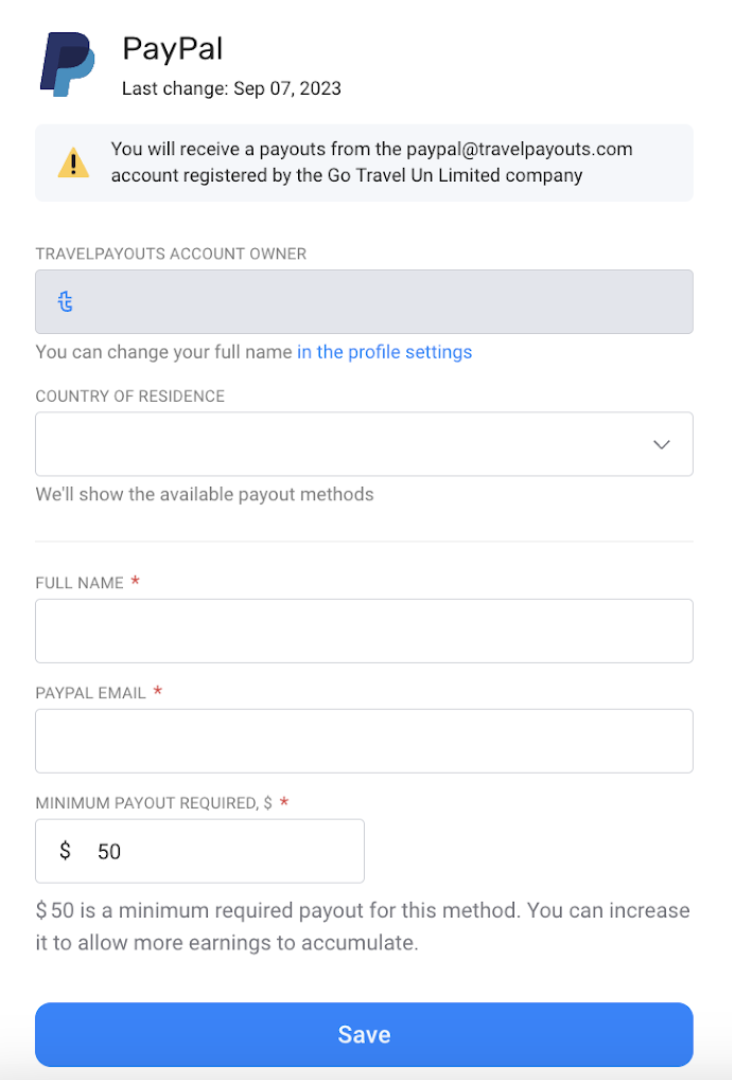 In the settings section, enter your first name, last name, and email address linked to your PayPal account. The minimum payout amount can't be less than $50.
Important: Make sure that this information is always up-to-date. If, for any reason, you change your PayPal email address, be sure to update this information in your profile, otherwise, there will be problems with sending your earnings from Travelpayouts
If you don't have a PayPal account
To create an account, go to www.paypal.com and complete the sign-up process. After that, sign in to your Travelpayouts dashboard and, in the Payout method section, enter the email address that you used when registering for PayPal.
Procedure for making payouts
Payouts at Travelpayouts are generated and transferred automatically. For more information about making payments, see the following article: When shall I expect my payout?
Reasons why you haven't received your payout yet
Check whether your PayPal account is restricted
If your account is restricted when you attempt to make a payment, PayPal will reject it. To check whether your account is restricted, use the following step-by-step guide: How do I remove a limitation from my account. If your account is indeed restricted, the initial attempt to make the payment will fail, however at the beginning of the next month we'll try to process the payment again. If you've removed the account restrictions, the payment will be made according to the schedule during the next month.
The payout has not yet been confirmed in your PayPal account
In your PayPal account settings, you can select each incoming payment to be processed manually. After receiving your payment notification, go to the PayPal website to confirm the amount:
Log in to your PayPal account.

Go to the

Summary

section.

Under the Pending payment status and next to the message indicating that the recipient "hasn't accepted yet", click Approve.
If you don't confirm your payment with PayPal within 30 days, the funds will be returned to us automatically.
Minimum payout amount hasn't been reached
Your balance has not yet exceeded $50 or the time has not yet come for a monthly payout.