How to get a link to the offer's website
When working with advertisers in the Travelpayouts affiliate network, you can use different tools:
Note! To receive an affiliate link, you must be subscribed to an offer. Right after registering in the affiliate program, you are already subscribed to Jetradar and Hotellook. Read about links to the websites of these companies in the relevant sections.
To get a link to the offer's website, go to the offer's page and select Tools. Click Links on the page that opens, click Links.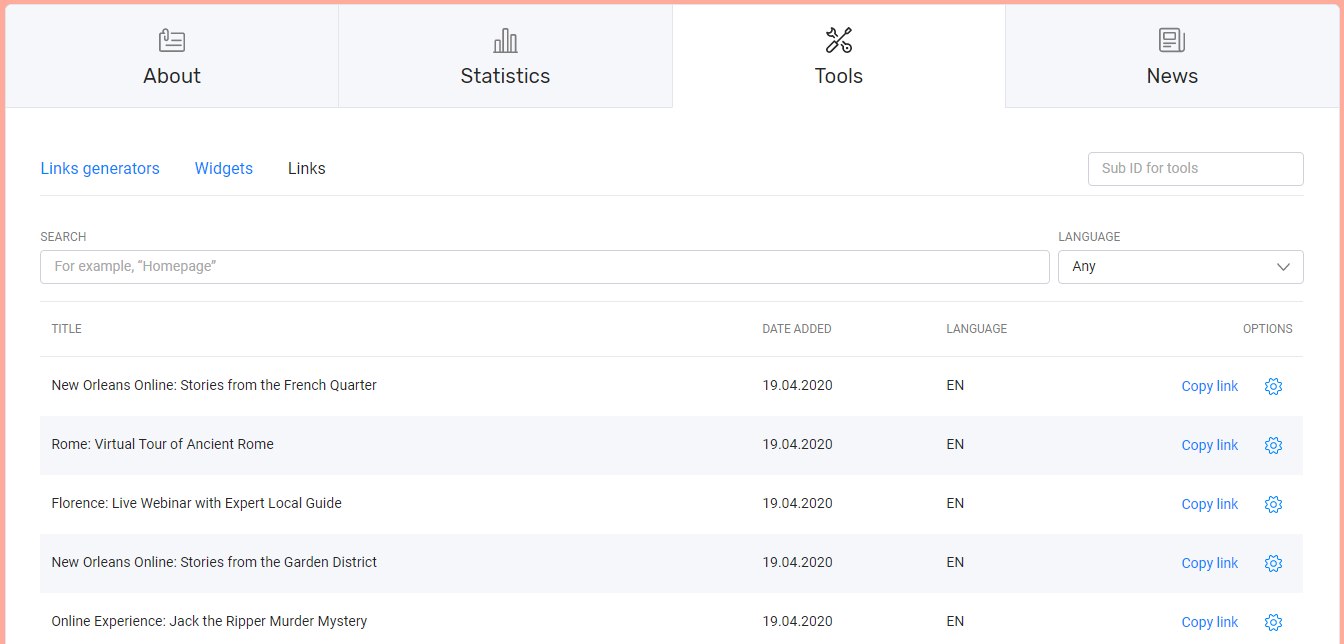 Title — the name of the link from which you can understand where it leads
Date added — when the link was added
Language — the language of the advertiser's site page on which it will be displayed after clicking on the link. For some advertisers, the page language is additionally determined by the settings in the user's browser and has a higher priority than the link language (for example, if the browser language is English and the users clicked on the GE link, they will still be in the English version of the site).
To get the link, click the Copy Link button.
Above the list of links is a search field, with which you can find links by title, and a language filtering unit.
To set a sub ID for all links, paste it into the Sub ID for tools field, which is located above the language filter.
To set the sub ID for a specific link, click on the gear in the link bar and in the window that opens, insert it in the Sub ID field.
Helpful advice: Use the link generator to get a link to any page of the advertiser's website.
For information on how to use links if you do not have a website, read the article First steps.