Affiliate Program Summary
You can find summary statistics for all affiliate programs on the dashboard of your personal account and in the Statistics section.
To study detailed information on a particular affiliate program, go to the Programs section. In the list that opens, find the program you are interested in and click the histogram icon.

The page that opens will contain a graph and a table with statistics on the affiliate program.
You can switch its contents using the tabs above the chart.
The table contains the following data:

Impressions

— The number of impressions of widgets and affiliate program search forms (does not work for Jetradar and Hotellook tools yet).
Clicks — The number of clicks on affiliate tools and links (for Jetradar and Hotellook, clicks are considered to be clicks followed by a search on the advertiser's website).
Pending — The number of orders processed by the advertiser.
Cancelled — The number of orders cancelled by the advertiser.
Paid — The number of prepaid booking.
ECPC — The effective cost per click.
Payout — The income received by the affiliate from the prepaid booking.
Poss. income — Displays the total income from bookings in the «Pending» status.
The block with settings and filters is located above the table.
They allow the affiliate to select the contents of the first column and filter the contents of the table. The first column can contain the following information:
Period — The period of time for which the data is displayed.
Grouping — Allows users to select a grouping option:

by programs
by days
by markers

Sub ID — Displays statistics on additional markers created by the affiliate.
Once you have selected the conditions for grouping and filtering the report, click Apply.
TheActions tab contains information about all actions in statistics. Actions are understood to mean any changes in an affiliate's balance:
Receipt of information about the booking
Booking confirmation
Booking cancellation
Change of rates and more

The Actions section contains the following information:
Action date and time
Activity ID — A unique activity identifier in the Travelpayouts database. Use it when contacting support
Host — The host where the booking was made
Sub id — An additional marker
Action type
Status — The status that was set for the booking by this action
Sale Amount — The cost of booking
Payout — The total remuneration to be received by the affiliate from booking
Click on the Activity ID in the table to open the detailed booking information.
A window with detailed information will open: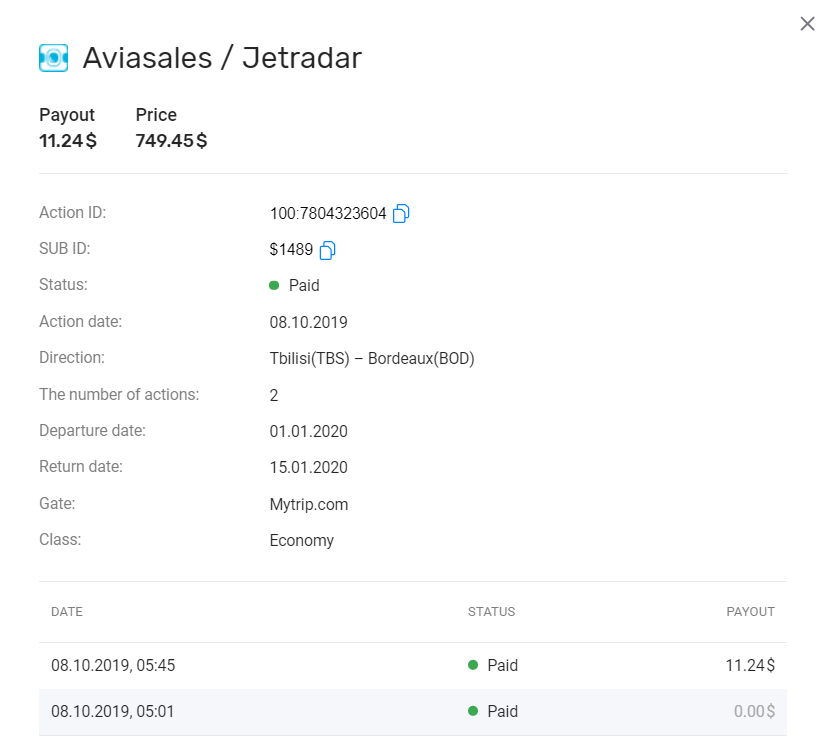 ZendeskWebWidgetStatisticsSummary