In this article, you will find information about reports for brands in the Travelpayouts account.
Summary
Reports in your Travelpayouts account show general information on impressions, clicks, searches, and bookings of users referred by the affiliate.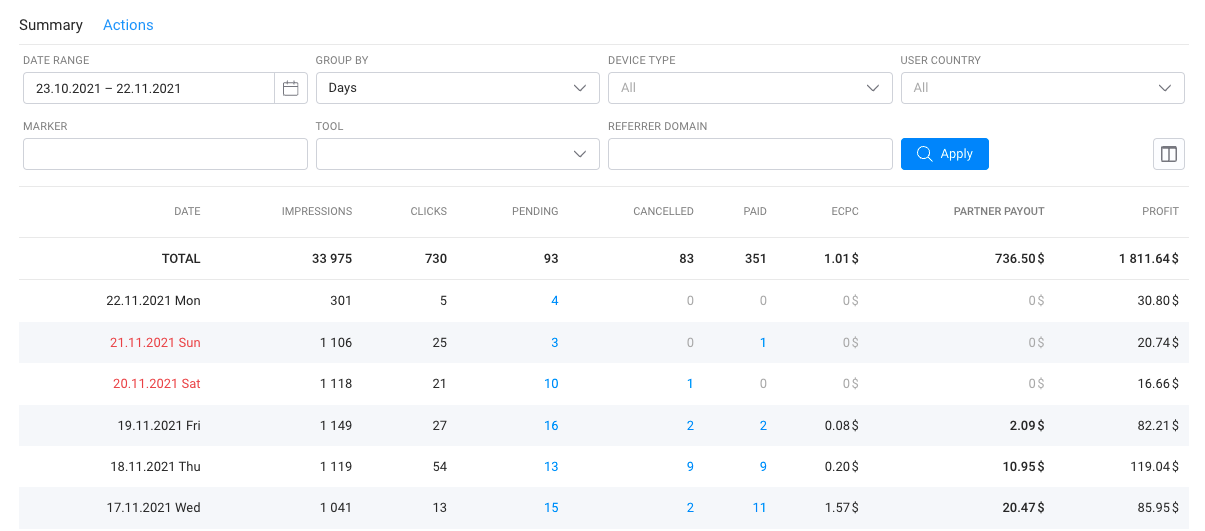 The table contains the following columns:
Data

— data on affiliate tools interaction

Impressions —

the number of times your affiliate widgets and banners were displayed to the audience

Clicks —

the number of times your audience clicked on affiliate links or other tools placed on your channels. Only clicks on affiliate links and banners are displayed in this column. As for widgets, only impressions and bookings are counted.

Pending

— the number of processed bookings

Canceled —

the number of bookings canceled by brands. Among possible causes are booking cancellation by travelers, program rules violation, or fraud.

Payments

— number of paid bookings

ECPC

— effective cost per click

Affiliate Reward

— affiliates' revenue from paid bookings

Potential Affiliate Reward

— affiliates' total income on processed bookings

Reward

— your total income on paid bookings
Report settings
You can find settings and filters above the table.

They will allow you to filter the table content:
Period — for what period to show data
Grouping — choose a grouping option:

By day
By month
By user country
By device type
By markers
By tool
By referrer domain

Device Type — shows data for actions completed by users on particular devices
User Country — filters by country to show where the user is located
Marker — shows statistics by affiliate marker, specified in the field
Tool — shows statistics by the specified tool
Referrer Domain — the source through which the booking was made
After choosing the grouping options and filtering the report data, press the Apply button.
To show/hide columns, click the settings button under the table:

Actions
This tab contains information on all actions available in statistics, including:
Booking details receipts

Booking confirmations

Booking cancellations

Changes in the exchange rate

Other changes in booking status, price, or revenue
The Actions tab includes the following data:
Booking Date
Marker — partner's unique marker
SubID — an additional marker
Description — booking information
Action ID — a unique action identifier in the Travelpayouts database
Action Type
Status — status set for the booking by this action
Price — booking price
Affiliate Reward — partner's final reward on bookings
Potential Affiliate Reward — partner's revenue on processed bookings
Reward — your revenue on paid bookings
On this table, you can find settings and filters.

They will help you set the period and filter the data:
Period — for what period should the data be shown
Status — what status was set for the booking by this action
Device type — allows you to enter data only for those actions that were completed by users on particular devices
User's Country — filters the report by country, to show where the user is located
Marker — shows statistics by affiliate marker, specified in the field
Referrer Domain — the source through which the booking was made
To show/hide columns, press the settings button above the table:

To open detailed information on a specific booking, press the Action ID in the table or hover your cursor over the description and press Open Details. A window containing detailed information about the booking will open: