Learn about the affiliate marker that we use at Travelpayouts.
Affiliate marker (ID)
In the Travelpayouts Partnership Platform, we use a special affiliate marker (also known as the Affiliate ID) to track clicks, searches and bookings. The marker is set into a cookie file on the user's computer and stored there for 30 days. Read more about the partnership platform in the Getting started article.
Note: use the Link Generator tool to convert regular links to affiliate links.
Your marker is in the upper right corner of your affiliate dashboard: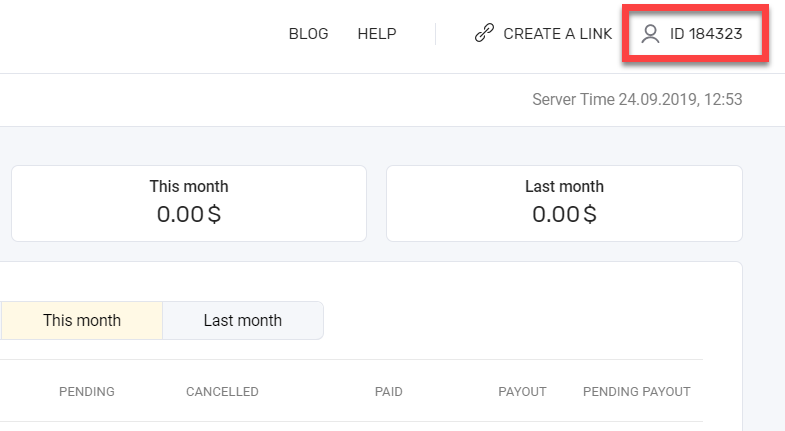 Additional marker (sub ID)
In addition to the primary marker, you can use a sub ID, which is set after the primary marker and separated from it by a dot. An additional marker is a parameter that allows you to track sales separately for each project/tool.
Let's say you use several different tools in different parts of the website. For example, the search module in the sidebar, links to search for tickets in the articles on the website, a banner in the footer of the website, etc. To get separate statistics for each tool, use the sub ID.
Note! In the name of the sub ID, you can use numbers, letters of the Latin alphabet and the underscore character "_". The maximum length of a sub ID is — 128 characters.
Sub ID in links
When creating a text link, a sub ID can be added to the link using the generation forms in the affiliate's user dashboard.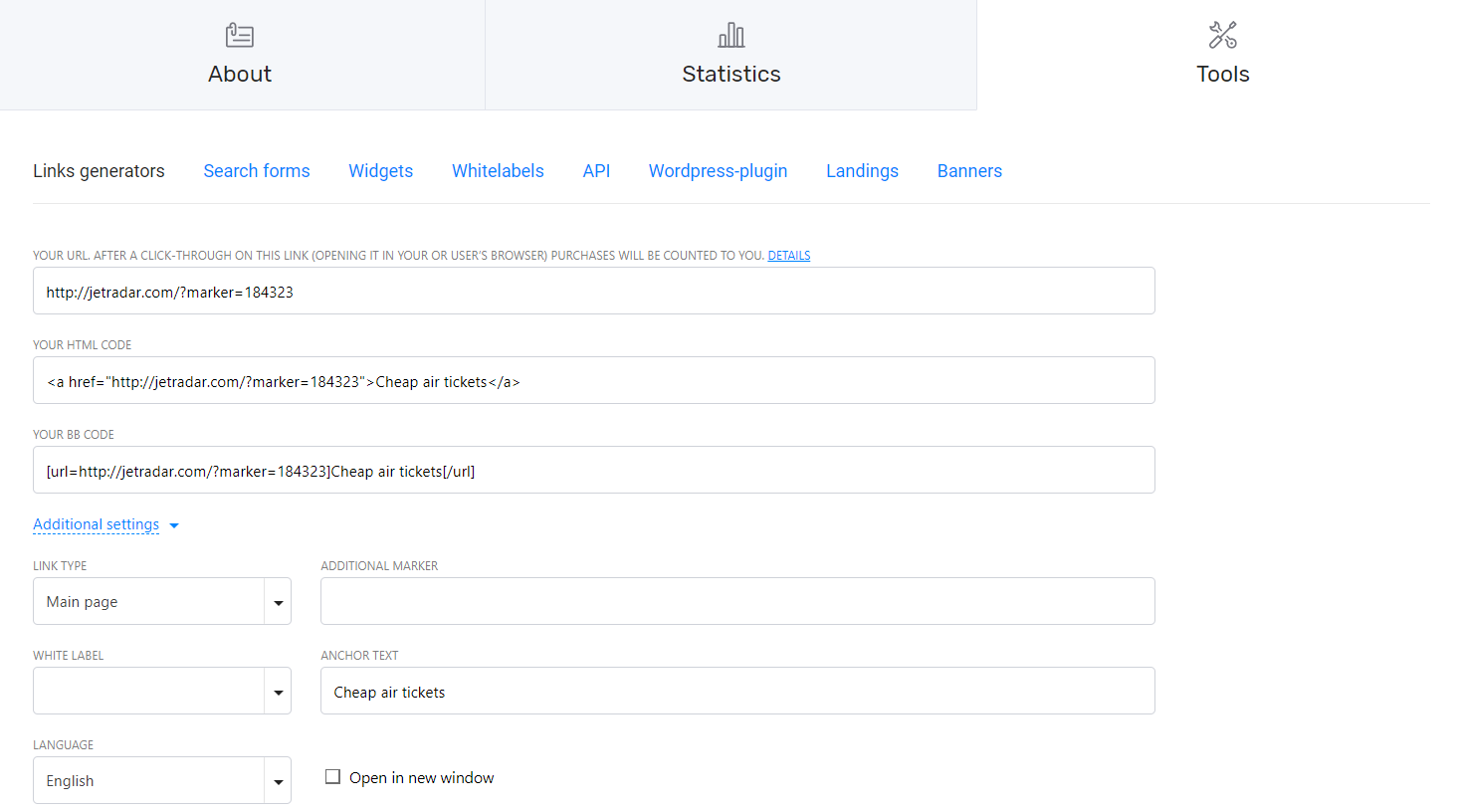 Or you can do it manually: http://www.jetradar.com/?marker=11111.sidebar, where sidebar is the sub ID.
Sub ID in widgets
In the widget design tool, a sub ID is set using a special field. In this case, you only need to put the marker itself in the field, without any additional characters.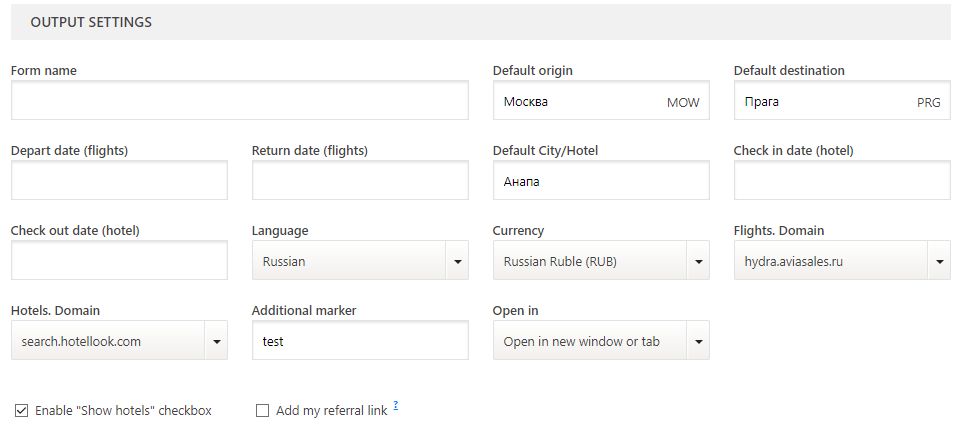 To add a sub ID to the code of the map widget, change the &marker=AffiliateID.map parameter, where AffiliateID is your affiliate marker, and map is an additional service marker that is set for the map by default. Place your sub ID in the place of map.
Example:
<

iframe

 

src

=

"//maps.travelpayouts.com/flights/?auto_fit_map=true&amp;hide_sidebar=true&amp;hide_reformal=true&amp;disable_googlemaps_ui=true&amp;zoom=3&amp;show_filters_icon=true&amp;redirect_on_click=true&amp;small_spinner=true&amp;hide_logo=false&amp;direct=false&amp;lines_type=TpLines&amp;cluster_manager=TpWidgetClusterManager&gt;&lt;strong&gt;marker=16886.aviamap&lt;/strong&gt;&amp;show_tutorial=false&amp;locale=ru&amp;host=map.aviasales.com"

 

width

=

"700px"

 

height

=

"240px"

 

frameborder

=

"0"

 

scrolling

=

"no"

>

</

iframe

>
Statistics on sub ID
Statistics on sub IDs can be viewed in the Summary tab in Reports. Information can be grouped by markers.

Service markers
Sometimes reports may contain service markers that are used by our services. This should be taken into dashboard when analyzing and processing the results:
cal

— This is a sub ID indicating that an action (search/click/booking) was made after a click-through from the price chart to Aviasales

tpsub — Subscription widget
tpcalwt — Low price calendar widget
_tpform — Widget for our campaigns
alert —

Price alert from the Aviasales website

hotelsmap — Hotel map widget
map — Flight map
ZendeskWebWidgetAllTools