Landing page
A landing page is a webpage (lead capture page, lender) whose main goal is to provide the user with information about goods / services and to convert site visitors into sales or leads. For example, here is a landing page for a flight search: http://jet-tickets.com and hotels search http://hotels-comparer.com.
Creation of a landing page from a HTML template
We have made several HTML templates that you can download and upon which you can host. Upon introduction of a few changes into the code, you can proceed to draw the clients to it:
Links to landing pages
Flights Jetradar
Hotels on Hotellook

http://hotels-comparer.com
http://hotels-comparer.com/2/
http://hotels-comparer.com/3/
First, unpack the file and find "index.html". In "index.html" find the following string:
var set_marker = '11501';
replace "11501" with your affiliate marker.
Set_cookies is a systemic parameter and does not affect the landing; it does not need to change.

Please note that this marker is automatically inserted not just into the search form code but into all widgets placed on a landing page. That is why you should replace it, even if you want to place your own search form.
Create a search form in your affiliate's account. Clear the tick box "Short code" and copy the search form handle-code: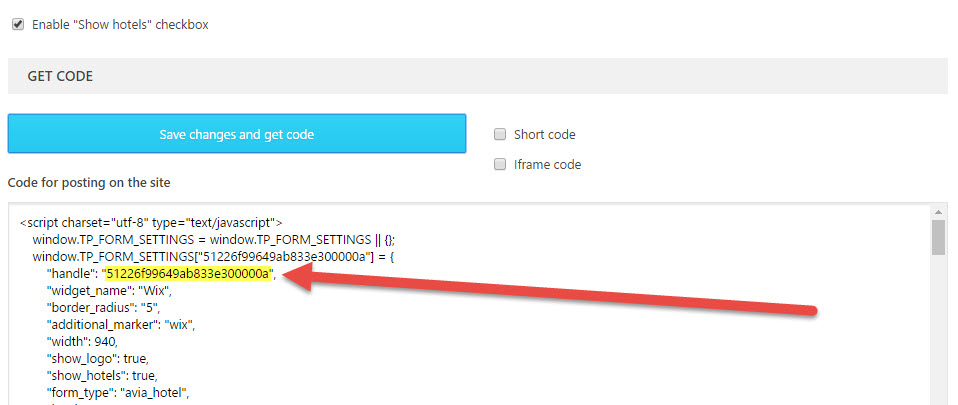 Insert this code into the string:
var set_handle = "96070048c84676bf2e585f9f912b3ed7";
After that, a landing page may be hosted; it is completely functional. However, these are not the only settings. You may set up so that the search results open on your website's subdomain.
The White Label setting for a landing page
To set the White Label for a landing page, you will need to first create and set up the White Label.
Next, open the search form code (that was placed or will be placed on your landing page) in affiliate's account and select the URLs of White Label in these fields:
Flights. Domain - for flights result;
Hotels. Domain - for hotels result.
Uncheck the checkbox "Short code" and copy the code "search_host": "YourWhiteLabelName/flights", to be placed on the landing page of the flight search and the field "hotels_host": "YourWhiteLabelName/hotels", to be placed on the landing page of the hotels search.
Open the file "js/app.js", find the search form code, and place the copied data into the line: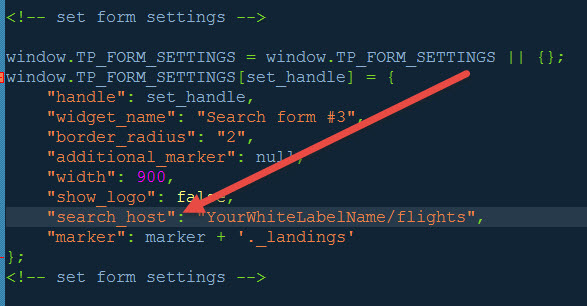 The White Label shall be opened upon clicking on the widgets as well if you find the widgets' code (they are marked with the inserts <!-- add widget -->) in "js/app.js". Specify your White Label address in the parameters "host" and "searchUrl".

For statistics tracking of the clickthroughs to the landing pages, use the "Sales report". This will also prove to be useful as an additional marker.