What you need to know about White Label from Travelpayouts and how to get it.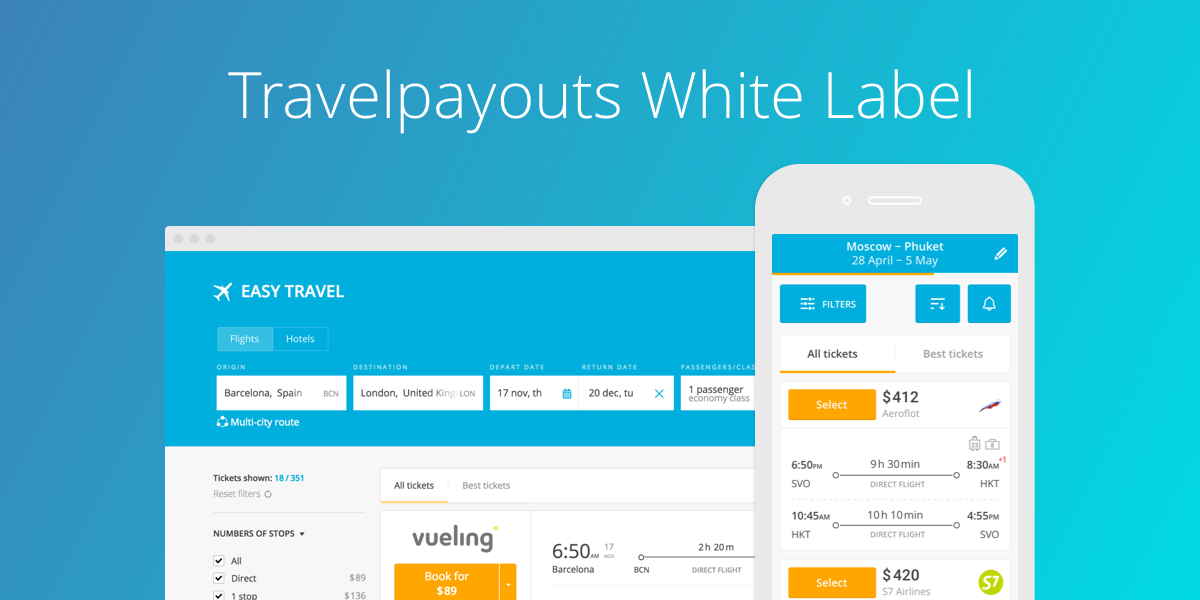 What is the White Label?
White Label by Travelpayouts is a search tool for Aviasales airline tickets and Hotellook hotels integrated into your website and designed with your branding.
If you have White Label, the user will see search results from search forms or widgets directly on your site. Without White Label, the user is redirected to aviasales.com or hotellook.com after clicking Search. Thus, White Label increases the chance of a purchase because the user does not need to spend time interacting with other pages.
You can find more information about the White Label travel website.
White Label is set up independently by a partner. Basic HTML and CSS knowledge is required.
Note: Complete White Label solution is available only for Aviasales and Hotellook programs. Some other programs also offer White Label widgets, to work with them follow the instructions in the Widgets section.
White Label example
An example of what a combined White Label with the airline and hotel search looks like: https://whitelabel.travelpayouts.com/
What's important to know about White Label
It's not allowed to use the names of the brands represented on the Travelpayouts platform (Aviasales, Hotellook, Agoda, Booking, etc.) in the domains or subdomains for White Label. If this rule is violated, the account may be blocked.

Booking.com prices won't be available on White Label due to Booking.com's policy while working through the API and White Label.

When users access the White Label travel affiliate program, there is no record in cookies for the aviasales.com and hotellook.com websites. But when going from White Label to the website of an agency or airline company, partner ID is set on their website for a period of 1 to 180 days. The exception is the websites of some airline companies, such as

low-cost airlines

.

From a technical point of view, a White Label is a CNAME record, plus individual appearance settings that are added to the affiliate's user dashboard after creating the White Label. The CNAME record is registered for the affiliate domain and is directed to whitelabel.travelpayouts.com.

White Label is closed off from search engine crawlers (except the main page). If you are planning to perform SEO marketing on your site, make an SEO-friendly structure and install the

search form

. Then put White Label on a subdomain, where plane ticket search results will be presented.

We do not recommend using the White Label service for travel blogs and sites with low recognition since White Label can reduce the visitor-to-buyer conversion rate.
How to get your own White Label
You must have your own second-level domain (e.g. website.com). White Label can also be configured for any level below the second: the third level (travel.website.com), the fourth level (search.travel.website.com), and so on.

You should be able to create a CNAME record for the domain. To do this, you can use the following:

free DNS hosting, for example, Cloudflare, Hurricane Electric, or

others

;

settings at the domain registrar — some of them support the creation of a CNAME record. Check this with the registrar itself;

regular hosting for websites. Note that you may not be able to configure the White Label on hosting services if they do not have the ability to edit the DNS record.

Create White Label

in your Travelpayouts account.

Adjust White Label settings, for example,

appearance settings

or other

additional settings

.
Done! Now users will be able to search for tickets right on your site, and you will get rewards for every booking made.
Read next