What is White Label by Travelpayouts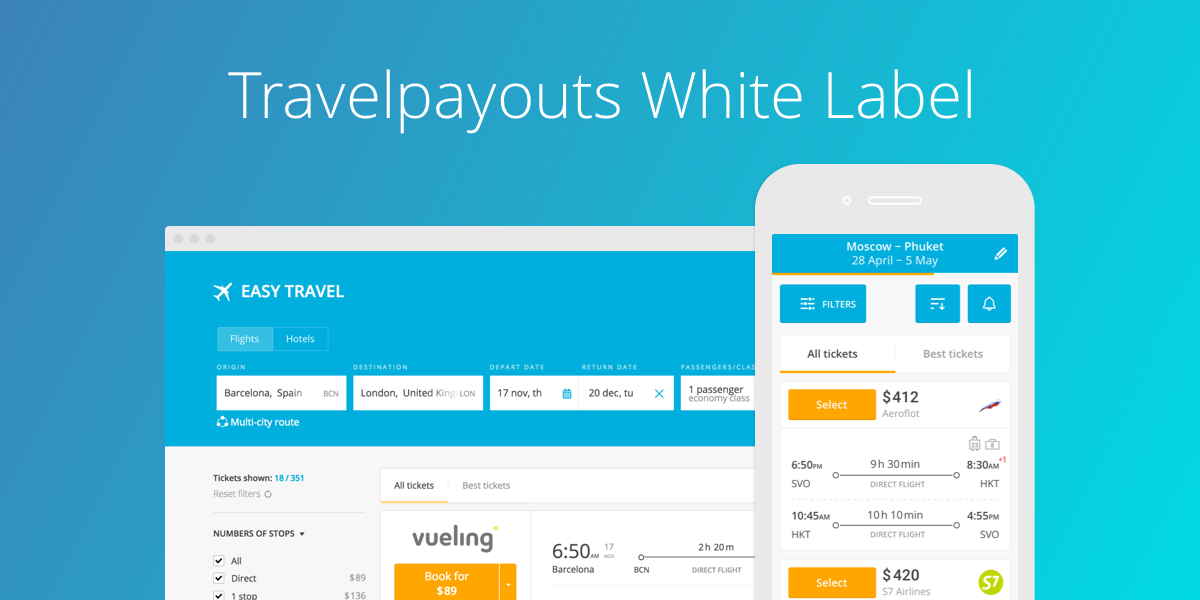 What is the White Label affiliate program?
White Label is a tool offered by the Travelpayouts affiliate network.
The White Label affiliate program is search that is powered by Jetradar and Hotellook that is integrated into your site's design. If you have White Label, the user will view search results on your site. Without White Label, users are redirected to Jetradar.com or Hotellook.com when performing a search. You can find more information about white label travel website.
White Label is set up independently by the affiliate. Basic HTML and CSS knowledge is required.
Some points to note:
It's not allowed to use the names of the offers represented in the Travelpayouts affiliate network (Aviasales, Hotellook, Agoda, KAYAK, etc.) in the domains or subdomains for White Label. If this rule is violated, the affiliate account may be blocked.
We do not recommend using White Label for travel blogs and sites with low recognition since White Label can reduce the visitor-to-buyer conversion rate.
White Label is closed off from search engine crawlers (except the main page). If you are planning to perform SEO marketing on your site, make an SEO-friendly structure and install the search form. Then put White Label on a subdomain, where plane ticket search results will be presented.
Booking.com prices won't be available on White Label due to Booking.com's policy while working through the API and White Label.
What should I do to get my own White Label affiliate websites?
You must have your own second-level domain (for example, website.com).
You must have your own hosting (you can use free DNS hosting like Cloudflare, Hurricane Electric and other). Due to the technological features, White Label can't set up to the hosts that provide of various website constructors (like Wordpress and others).
Set up White Label on your hosting.
Create White Label in your affiliate account.
Now you can select White Label in the tools settings.
FAQ
How can I make a hot price map for my own travel site, like the one on wl.jetradar.com/map?
Set up White Label according to the instructions above. After configuration, a hot price map will be available at avia.yourdomain.com/map.
Why are there different prices in Jetradar.com compared to White Label?
Jetradar queries dozens of agencies and airlines to get ticket prices. Not all agencies/airlines support affiliate markers, and we remove these agencies/airlines from our affiliates' search results. (Please note that the number of agencies/airlines is rather small). This means that, in some cases, prices found through an affiliate White Label may be slightly higher than on the Jetradar site.