This post explains why you need Projects as well as how to add, edit, and manage them.
What is a Project
A Project is a term used by Travelpayouts to refer to a channel that you use to promote brands with the help of the Travelpayouts platform.
Projects can be:
own websites

pages on social networks and YouTube channels

email newsletters

paid search and traffic arbitration

promo codes distribution

travel agency and

many more

.
Projects help brands evaluate the type of traffic and its compliance with the rules.
To start working with partner programs and get access to their affiliate tools, you need to create at least one Project.
Opportunities for partners
Projects are designed to help partners analyze the performance of every channel on which they use affiliate tools and promote brand programs. Together with the SubID, Projects make tracking sales and statistics more convenient and transparent.
Additionally, once a Project has been created and all the required information has been provided, partners can easily apply for connection to any program with just two clicks.
It is possible to create Projects for different websites, channels, and areas of activity, and the performance of affiliate tools can be viewed in statistics based on the Project.
How to create a Project
There are two ways to create a new Project:
Through a dedicated section in the Travelpayouts account.

When connecting to a program.
Creating a Project in the Projects section
To create a new Project:
1. Open your Travelpayouts account and place the cursor at the bottom left corner of the page. The menu will pop up. Click the My Projects section.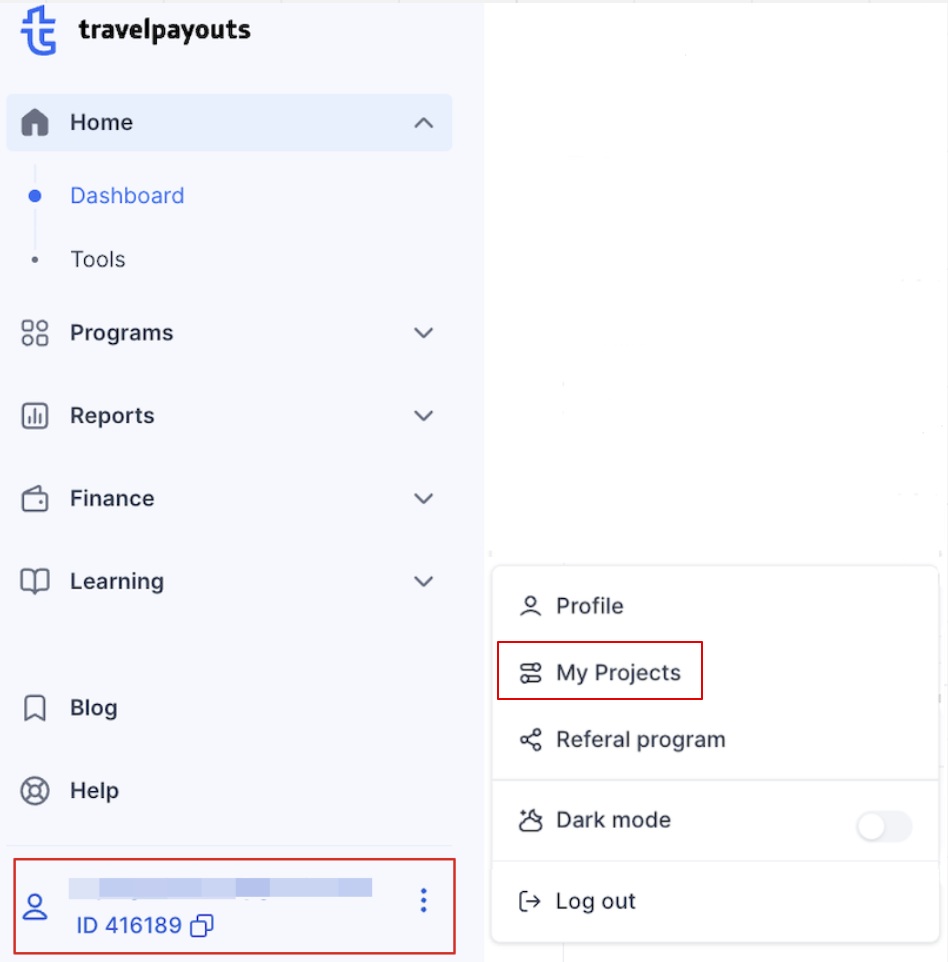 2. Click on the Projects tab, and then select Create Project.
3. On the pop-up window, click Create Project and choose the category that best describes you.
For instance, if you have your own blog through which you occasionally book travel services, you can select the first option — Creating content. If you own a travel agency with a website, you can create two Projects, one for website customers and another for those who visit your office. You can find more information about Project types and choose the one that suits you best.
You can learn more about Project types and choose the one that fits you most in the Project types article.
3. After selecting the appropriate option, you will see a screen where you can add all the channels on which you plan to promote brands.
4. Choose the channels for your Project and provide the respective URLs. For example, if you have a website about traveling in Europe, as well as a social network and a newsletter, you can select all of them in this step without creating separate Projects for each channel.
You can combine different platforms if they have the same audience and topic (for example a website, a social media page, and a YouTube channel) as a single Project.
Important: please make sure to enter valid URLs of your websites and social media channels. The fields include validation that doesn't allow to enter incorrect values to the fields.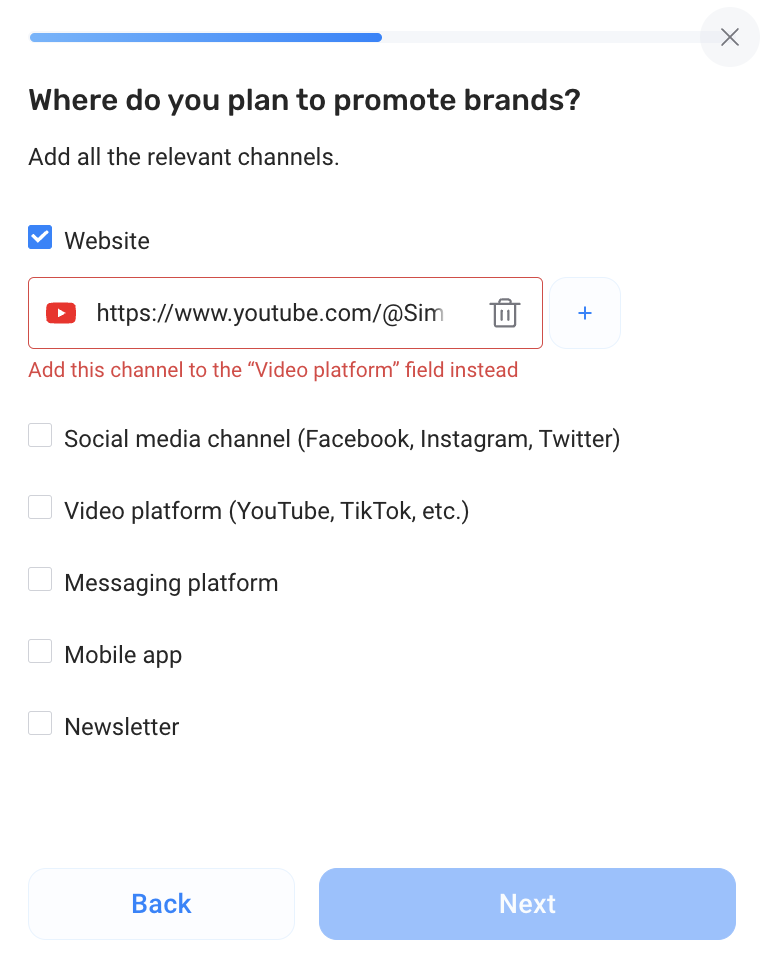 5. Click Next.
6. In the next step, provide information about your audience and content.
Tip: If you have content on a coupon/promo code website, estimate the number of clients visiting your Project to read articles and those who come by coupon requests. Select the option that generates more traffic.
7. After entering all the data, click Next.
8. Enter a name for the Project. Create short but understandable titles to help you navigate Project reports:
9. Once you specify the Project's name, click Save Project.
Creating a Project when connecting to a program
Another way to create a new Project is to send a request to connect to a partner program.
1. Go to the Programs section.
2. Choose the brand you are interested in and click on the Details button.
3. The About tab will open.
4. Carefully read the program's terms and rules, check the "I accept the terms of partnership agreement" checkbox, and click Connect.
5. If you have already created Projects, you can select one of them when submitting your request. The Project description will already contain all the necessary information required by advertisers to approve your request.
6. To create a new Project, click Create at the bottom of the list. Further, all steps are similar to the process of creating a Project described above.
If you send a request to connect to a program that requires the brand's approval, the status of the application will be displayed in the About tab.
If the program doesn't require pre-approval, the Project will be immediately connected to the program.
You can learn more about how to connect to a program in the How to connect to a program article.
After connecting to a program, you can go to the Tools section and get the link or widget code with the Project ID and place it on your channel.
Project management
You can disconnect any Project at any time and connect another Project instead. To do this, open the program's page and click on Manage connections.
A pop-up window will appear, displaying a list of all your Projects.
You can see the following options here:
Under review

— Refers to the Project that is currently under the process of verification from the brand's side. This is only applicable to the programs that require brands' approvals to connect Projects.

Disconnect

— This option disconnects the Project from the program. Note that clicks on tools associated with this Project will no longer be recorded in your statistics.

Connect

— Use this option to send a request to connect a new Project to a program. You can connect multiple Projects as long as they comply with the program's rules. If you have connected several Projects, you can choose them in the settings of affiliate tools.

Reapply in 7 days

— This option appears if you have tried to connect to a program, but your request was declined. You will be able to reconnect only after 7 days. Read more in the

Re-apply to the program after rejection

article.
Editing Projects
To edit the Project data, go to the Projects section and click the pencil icon next to the Project name.
You can edit the following:
Project name

Channels

— If, for example, there is a YouTube channel linked to a website, you can add it in the editing section. This way, the traffic from YouTube will also be counted in the statistics for that Project.

Project details.
After you finish editing the Project, click Save.
If you have stopped working on a Project and want to completely hide it from statistics and your personal account, click Archive on the Edit screen.
If you still have questions about working with Projects, please contact our support team.