Affiliate profile
Affiliate profile
On the account page, each affiliate can configure a variety of settings related to participation in the travel affiliate program.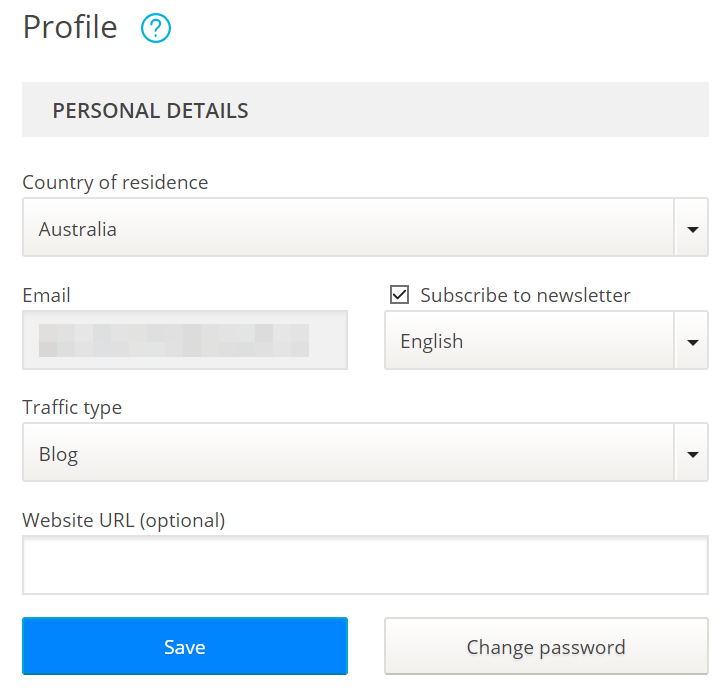 Here affiliates can:
indicate a country of residence;
subscribe/unsubscribe from email notifications;
select subscription language;
indicate site URLs;
select type of traffic that will plan to use;
change password.
In this section, affiliates select a method for receiving payments and provide their payment information.
Remember that the payout method affects the commission amount and the minimum payout threshold.
If you choose to receive funds via bank transfer or the account of a legal entity, enter your full account information.
If payout will be made via bank transfer, you can choose whether to receive transfers in dollars or in euros.
Important: You can increase the minimum payout threshold, meaning that monthly payouts will occur only when your accumulated earnings exceed this threshold.
How to change the e-mail address
To change your email address, send the address of new mail from your current mailbox to our support team: support@travelpayouts.com.
If access to the current mail has been lost, a letter can be sent from the new mailbox. In the text of the letter, include the specified profile payment method so we can ensure that you are sending the letter yourself.