Statistics and reports
The account page contains two reports: Sales report and Payment report. The first tells affiliates how much they earned, and the second describes upcoming and past payouts.
Sales report
Report content
The report contains information about all clicks, searches, purchases and clients brought in by the affiliate.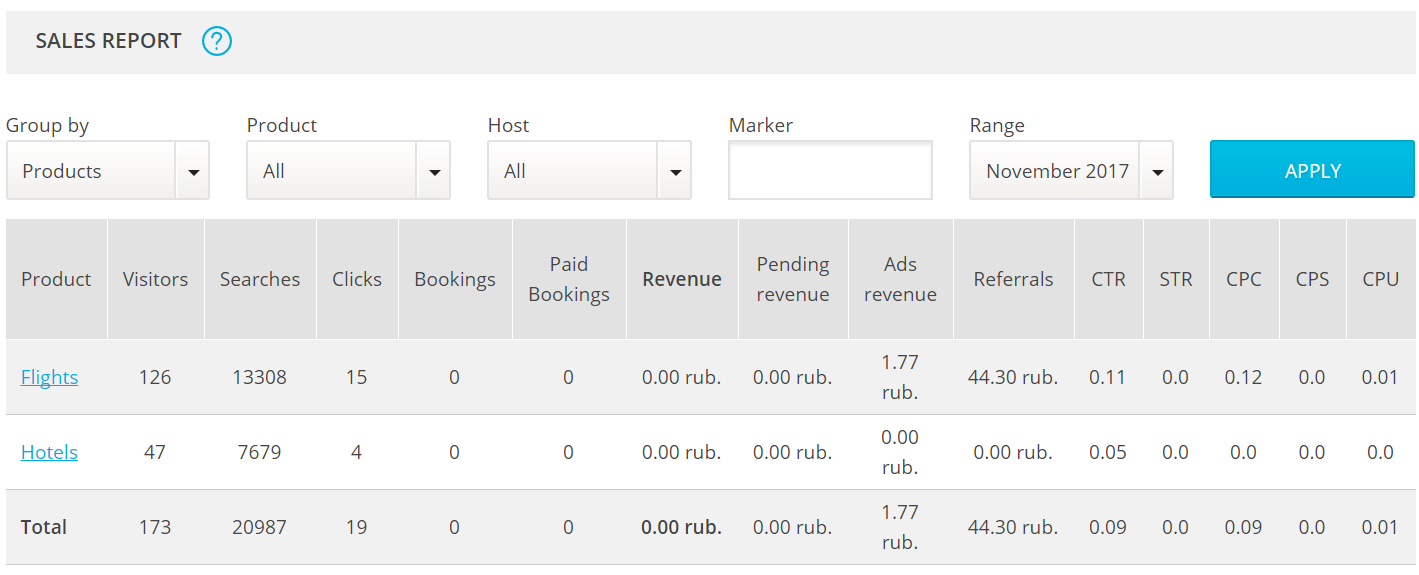 The table contains the following columns:
Visitors – Number of unique people who have started searching for a flight/hotel on Jetradar or Hotellook.
Searches – Number of searches initiated by visitors (i.e., how many times users entered a query and pressed "Search").
Clicks – Number of clicks on the links in the search results.
Bookings – Number of visitors who have booked tickets/hotel rooms.
Paid Bookings – Number of paid bookings.
Revenue – Income received by the affiliate from paid-for bookings.
Pending Revenue – Total income from bookings that are currently being processed.
Ads Revenue – rewards for clicks on advertising media on the sites of our projects Aviasales, Hotellook and Jetradar (the procedure of calculation and the amount of rewards are not disclosed). Statistics are updated once a day.
Referrals – Income received by the affiliate from referrals.
CTR – Click-through rate.
STR – Sell-through rate (clicks vs. bookings).
CPC – Cost per click (your income).
CPS – Average cost per search (your income).
CPU – Cost per user (your income)
Affiliates should pay close attention to the STR and CPU. These values allow for the assessing of the effectiveness of the tools and sources used to attract clients. The higher these numbers, the better the quality of the affiliate's traffic.
Good-quality traffic is targeted traffic, i.e., visitors who are using search not out of idle curiosity but to find and book tickets to a place of interest. This kind of traffic can be obtained from tourism-related sites and blogs.
Report settings
Above the table is an area with settings and filters. With these, an affiliate can select content from the first column and filter the contents of the table. The first column can display:
Products – Statistics are split up for flight destinations and hotels.
Days – Statistics are shown for each day separately.
Markers – Statistics on the additional markers created by the affiliate.
Hosts – Statistics shown for sites from which affiliate traffic has come.
After conditions have been chosen for grouping and filtering, click the Apply button.
Payment report
The payment report contains information about all payout transactions.
The report shows affiliates how much money has been transferred to the affiliate's account and for what time period.
Referrals report
The referrals report contains information about the number of referrals, engaged partners and their activity in the travel affiliate program.
The table contains the following columns:
Date – Date of registration referral in affiliate program.
Marker – Referral affiliate ID.
Tickets – Profits from ticket sales that referral brought to the partner.
Hotels – Profits of hotel bookings that referral brought to the partner.
Overall revenue – Total revenue from tickets and hotels.
Registration marker – Additional marker that adds to the affiliate link