Information about how to set up the schedule widget and get the code to place it on your website.
The schedule widget displays information about flights for the current week from one city or airport to another on the website page. In this case, the schedule can be formed for one airline company or for all those operating in the specified direction.
Schedule widget set up
To set up the schedule widget and get the code to post on your website, open the Aviasales affiliate program in your affiliate dashboard. Go to Tools -> Widgets in your user account.
A window will open on which the widget's preview block is located on the right, and its settings are on the left.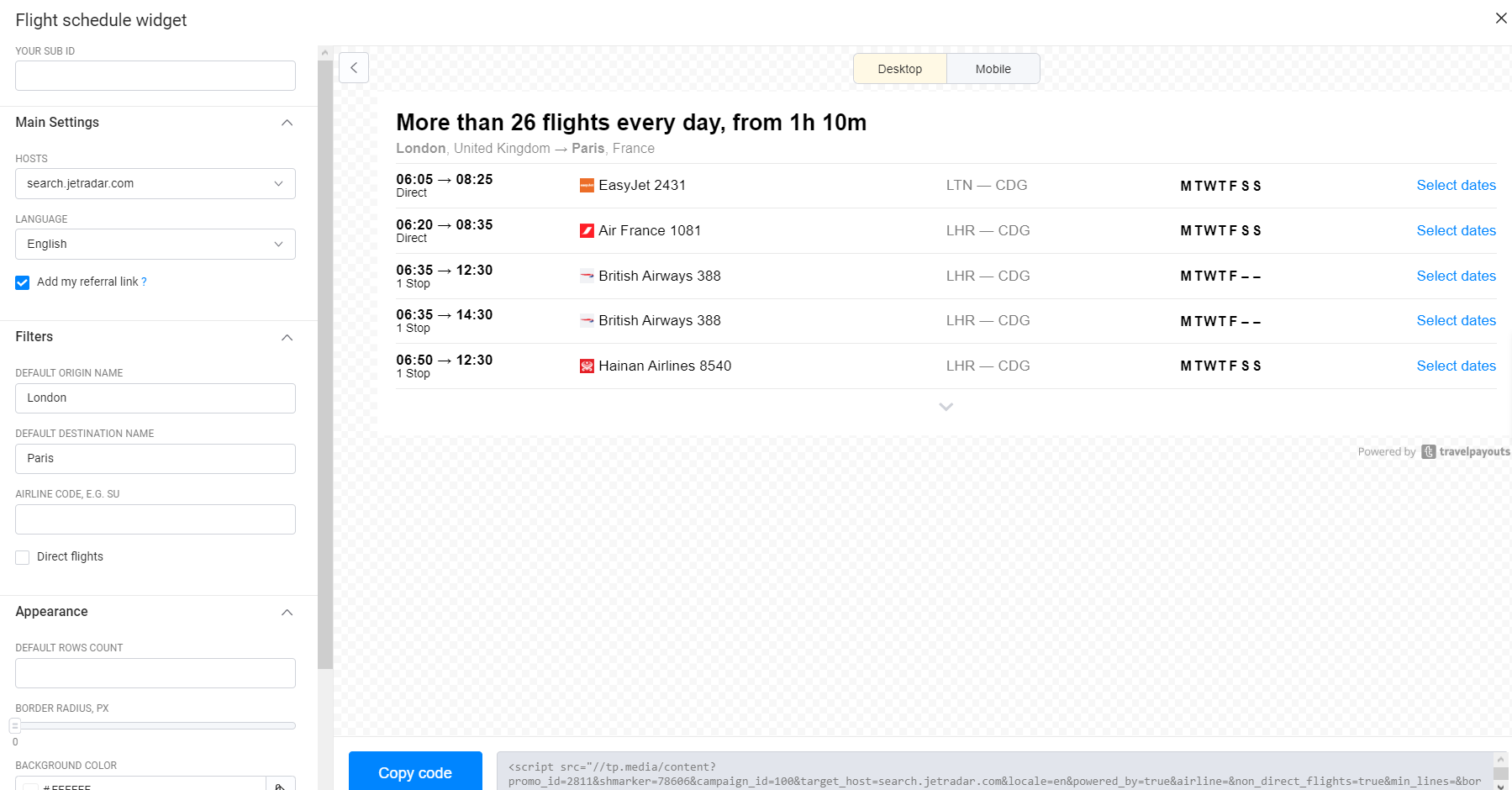 Projects — select the project where the widget will be placed
Your SubID — Your affiliate SubID (additional marker)
Hosts — The website that opens the search form. It depends on the selected language. To open the result on your White Label, select it in this field
Language — Widget language. Selecting a language changes the website address (and its language) where the search form opens. You can select White Label in the Host field so that the search form opens on it
Add my referral link

— Adds a link

Powered by Travelpayouts

under the search form. More details in the article

Referral program
Origin name, Destination name — A name or a code designating a point of origin or destination.
Airline code — IATA airline company code. If no code is specified, all airlines operating flights between the point of departure and destination are displayed. You can get the code here. Optional parameter
Direct flights — Show only non-stop flights in the widget
Show flights of all airlines if no flights of the specified one are found — If there are no flights of the selected airline (the Airline code field), flights of other airlines are automatically substituted
Appearance:

Default rows count

— The maximum number of rows that will be displayed in the widget
Radius of rounding — The radius of the rounding frame of the widget
Background color, text color, border color — Customize the colors of the widget's form in HEX format.
After setting up the widget, copy the embed code and paste it on your website.
Widget demonstration