Referral program
Do I receive a commission for encouraging new affiliates to sign up with TravelPayouts?
Yes. Our travel affiliates program has a referral program that provides an additional way to earn money by recruiting new affiliates. You distribute a link (with your embedded affiliate ID) for signing up with the program and get 5% of our income generated by your referrals (i.e., the affiliates who signed up using your link).
The referral percentage comes out of Jetradar' share, meaning you and the new affiliate are not taking money away from each other!
Important: You may not use your own referral URL to register other sites you own. If this rule is violated, we reserve the right to terminate your affiliate account at any time without payment or compensation.
How do I generate an affiliate link?
To create an affiliate link, go to your account page and then to the Text links section. In the form that appears, select the Referrals tab. 
In the advanced settings, you can select a language for the page that potential affiliates will see when they visit your link.
You can also generate an affiliate URL yourself: http://www.travelpayouts.com/?marker=XXXXX, just replace XXXXX with your affiliate ID.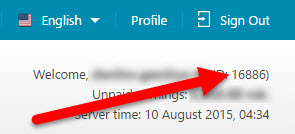 How much am I earning from my referrals?
You can view referral commissions on your account page under Reports–>Referrals report.