Calendar widget
Calendar widget
Go to the "Calendar widget" in your account partner to customize it and get the code for placed on the site.
First of all, set the appearance of the calendar by setting its width (Widget Width).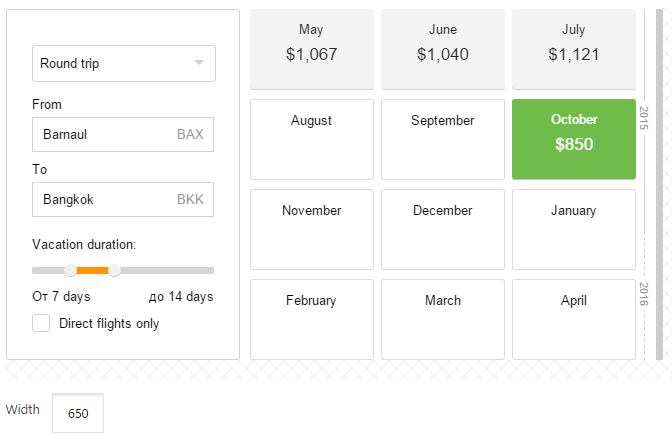 Enter the city of origin and destination. By default the calendar will be opened in these cities.
Additionally the available options:

language - the language of displayed results;
host - if you plan to place the widget on the White Label and want to open the results on your site, enter in this field the address of White Label;
currency - the type of currency in which the price of found tickets will be displayed;
additional marker - use this option to collect detailed statistics (for details on additional marker);
period - period of the calendar: year or month;
period, days - the range days of trip.
To place a widget in your site copy the code from the block "Code for posting on the site" and paste into html code of website.
Example of widget
Recommendations
Place the widget in the thematic articles about a particular city or country, and specify the city in the widget.
Use the Calendar widget together with the Maps widget - you can show the different dates and different directions to destinations.