Learn about the referral program, which is an additional way to earn by attracting partners.
Do I get revenue for encouraging new affiliates to sign up with Travelpayouts?
Yes. Our travel affiliate network has a referral program that provides an additional way to gain revenue by recruiting new affiliates. You distribute a link with your embedded affiliate marker (you can find it here) for signing up with the program, and get 7% of our income generated by your referrals (i.e., the partners who signed up using your link) for the first two years after the referral's initial registration.
Example:
The total revenue from the sale of a flight ticket is $100
Affiliate revenue — $60
Affiliate referral revenue — $7
Travelpayouts revenue — $33
The referral percentage comes out of Travelpayouts share, meaning you and the new affiliate are not taking money away from each other!
Important: You may not use your own referral URL to register other sites you own. If this rule is violated, we reserve the right to terminate your affiliate account at any time without payment or compensation.
Full terms of the Travelpayouts referral program you can find here.
How do I generate a referral link?
To get your referral link click Invite on the Dashboard main page: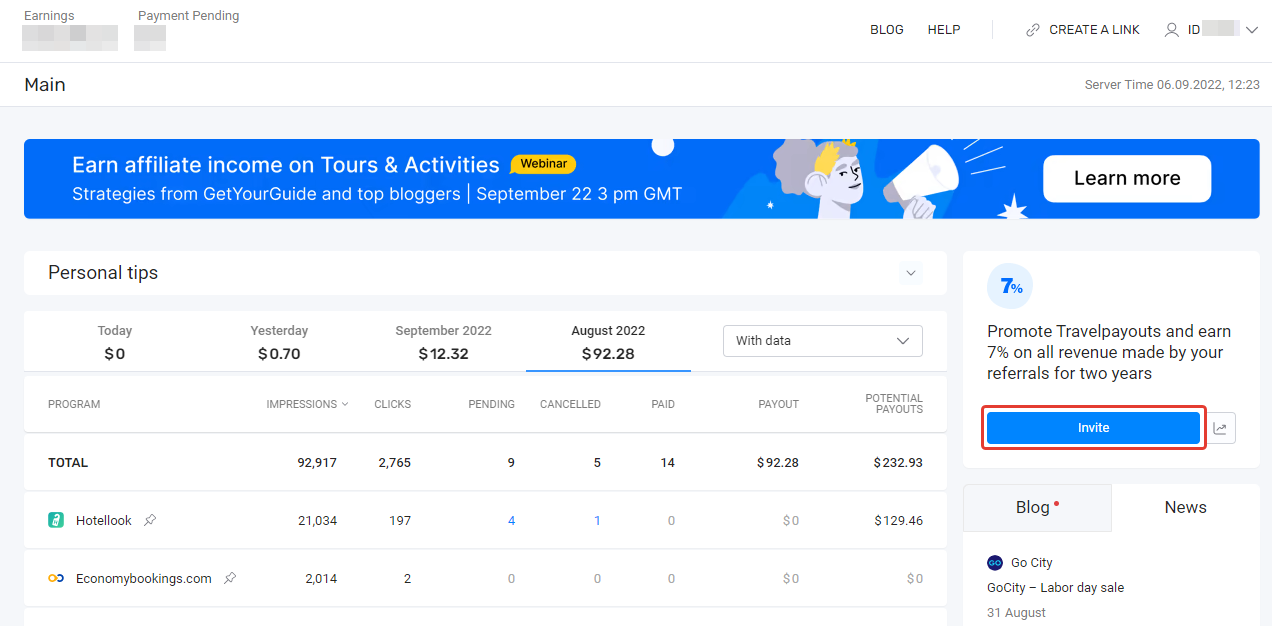 You will see a window with your referral link. To track the performance of different referral links, click Add Sub ID and enter it in the field that appears (read more about Sub ID here).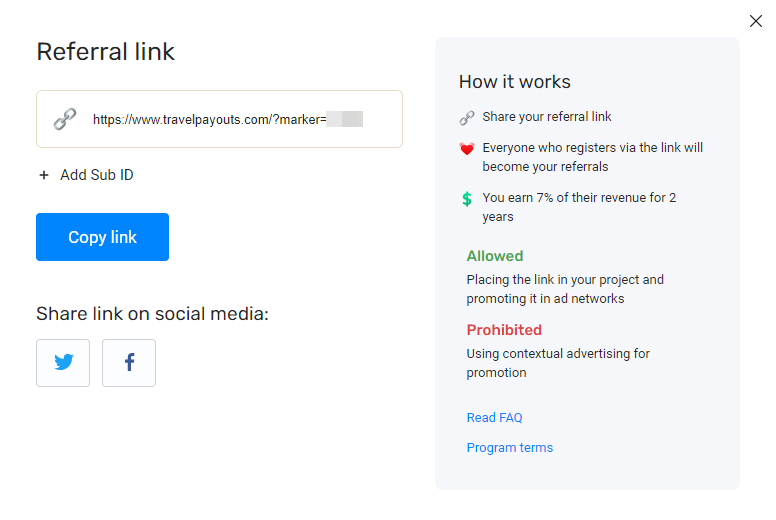 Click Copy link to get the referral link. You can also share the link on social media by clicking on the relevant icon.
Also, you can easily get your referral link in the Referrals section by clicking Invite:

How to simplify attracting referrals?
To make the attracting referrals simpler and faster, we created a special link called "Powered by Travelpayouts" in all of our widgets. When users click on the link, they'll go to travelpayouts.com with your affiliate marker.
This link is hidden for existing widgets by default. To add a link to already placed widgets, go to the Travelpayouts affiliate dashboard and confirm its activation in the pop-up that opens.
This setting is available when you create widgets.
How much am I earning from my referrals?
You can view referral revenue in the Referrals section, as well as in the widget on the Dashboard main page: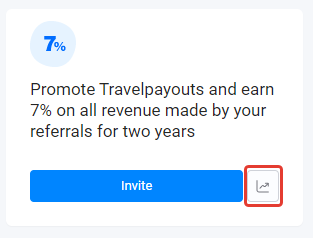 Check out an article on our referral program in our blog.