So, you registered at Travelpayouts. What's next? Find the answer in this post.
You've signed up with the Travelpayouts travel affiliate network, but what now? The answer depends on what you have to work with. Let's take a look at the three most common scenarios:
You don't have a website and don't want to create one
Even if you don't have a website, you can still earn money with our affiliate network.
The Affiliate text links tool is the way to make this happen. You can find links in the Links generators section in the programs on your affiliate dashboard page. You can configure these links there as well.
Note that the end of the link contains your affiliate marker (AffiliateID), which is specified in the upper-right corner of your dashboard page: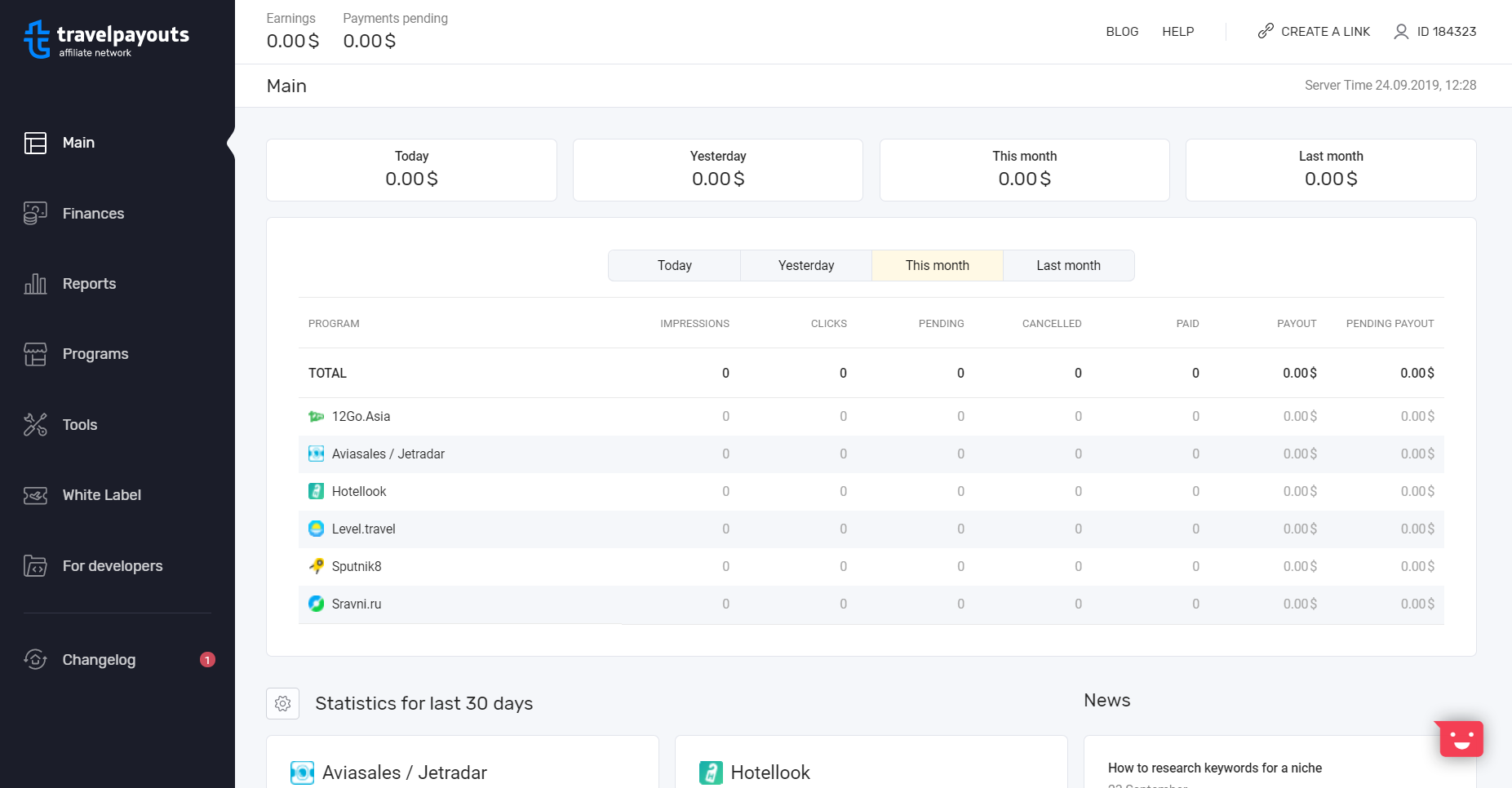 Where can I post my affiliate links?
There are many places where one can post affiliate links — we will be listing only some of them. However, keep in mind that it is not enough to simply place a link somewhere on the Internet. After all, your earnings are based not on the number of clicks you get, but on the number of tickets that are booked. Thus, it is very important to choose the right venues for posting them.
Forums on travel, vacations and recreation
You can put links in the text of your messages, but do this smartly and sparingly; otherwise, you risk being banned by forum moderators.
Another method is to put a link in your signature on a forum so that the link is automatically added to each post you write. Usually you can simply access your forum profile and add a signature (or change it).
One possible way of wording your link is "When looking for plane tickets, I use Aviasales".
Just like forums, travel blogs often have discussions after articles. If comments are allowed to contain links, you can express your own opinion about an article or take part in a discussion while including your affiliate link in your comment.
However, do not write comments that consist only of your affiliate link. Keep your answers on-topic and make sure your comments are useful for other blog readers. This substantially reduces the risk that your posts will be removed.
Facebook, Twitter and other social networks offer an enormous number of pages dedicated to various countries and to travelling. The same advice applies here: make your comments interesting and useful, while including your affiliate link, and all will be well.
You can create your own mailings to talk about various countries and locations around the globe. In these emails, you can also share information about how to quickly find cheap tickets with the help of Jetradar.com.
If you already have a site
If you already have your own website or blog, you have the following additional options for bringing visitors to Jetradar.com:
Place links in the text of relevant articles or at the end of publications. These links will be popular with visitors when you write articles about travel or foreign countries.
You can host websites as well as widgets on your own website. This means visitors to your website can start looking for travel products without having to leave your page.
You can customize the design and content of the widget on your affiliate dashboard page.
White Label is used when search results must be displayed on the same website that hosts the search form. Search results are hidden from search crawlers, so it is better to host results on a subdomain and perform SEO for the domain itself.
For webmasters who are used to putting both articles and banners on their websites, banners (in the form of search windows) are available. In addition to banners, webmasters can install map widgets, which allow visitors to view and choose flight routes.
If your blog is powered by WordPress, install our special plugin to help visitors look for tickets.
Our affiliate API allows for the obtaining of data on ticket prices, airports, cities and countries.
Learn about these and other affiliate tools on our website in the "Affiliate tools" section.
You don't have a website but are ready to create and promote one
The website creation process consists of several stages:
Get good with HTML and CSS.
After you know the basics, register a domain name and buy a hosting for your website.
Figure out the type of website you want to create: a cozy WordPress blog or a website powered by another content system.
Upload your website to your host, fill it with content and keep going!
For your website to grow and attract new visitors (as well as keep old visitors coming back), you need unique content. Write interesting articles and upload photos/video.
Optimally, all of your content should be on the topic of travel, foreign countries, etc. This attracts the kind of visitors you want — ones who will click your links, use the search form and book tickets.
You can learn about all the stages of creating your own website by downloading the instructions "10 easy steps to create a website".
Where can I get content?
You can create your own content for your website. Describe your travels and experiences in other countries/locations (your site does not actually have to be a "travel website"; any topic will work). If you aren't travelling much as of late or don't love to write, contract with professional copywriters for article-writing services. You can find these wordsmiths on freelancer websites and specialized online markets.
Before ordering a first article, check out the author's portfolio. It's important that you like what they write! Do not create text for the sake of text. If your articles aren't interesting, visitors will not come back to your website anymore. (Some say that search engines bump to the top of results those websites with a good retention of visitors.)
With that in mind, it's better to add content to your website gradually, with high-quality, interesting articles. Put photos in your articles and break them up with subject headings. This improves the flow of reading for visitors and makes your article more attractive to search engines.
More information about perfect content you can find here.
We hope this information will help you find a convenient, effective way of working with our affiliate network. Good luck!
ZendeskWebWidgetDashboard