Eight steps to get started with Travelpayouts
Welcome to the Travelpayouts Quick Start Guide! We've gathered all the information you need to get started with the platform. We'll give a brief description of the main steps and share links to articles with details and useful information.
1. Create Travelpayouts account
Go to the Sign up page, enter your email address, set your password, and click Create account. You'll receive an email from Travelpayouts (hello@travelpayouts.com). In that email, click Verify email.
Email verification is an important step, as you can't add information about payout methods without it, and you won't be able to receive any earned rewards.
Congratulations! You're now a Travelpayouts partner! After the sign-up is completed, you'll be allocated a unique identifier – your Travelpayouts ID, which will be used to track clicks, searches, and bookings made through the tools placed on your promotional channels. You'll also get instant access to all platform features.
Check out our Travelpayouts affiliate dashboard article to learn more about our app's interface and functions.
After the sign-up, you will see the tips on the next step in your Travelpayouts account.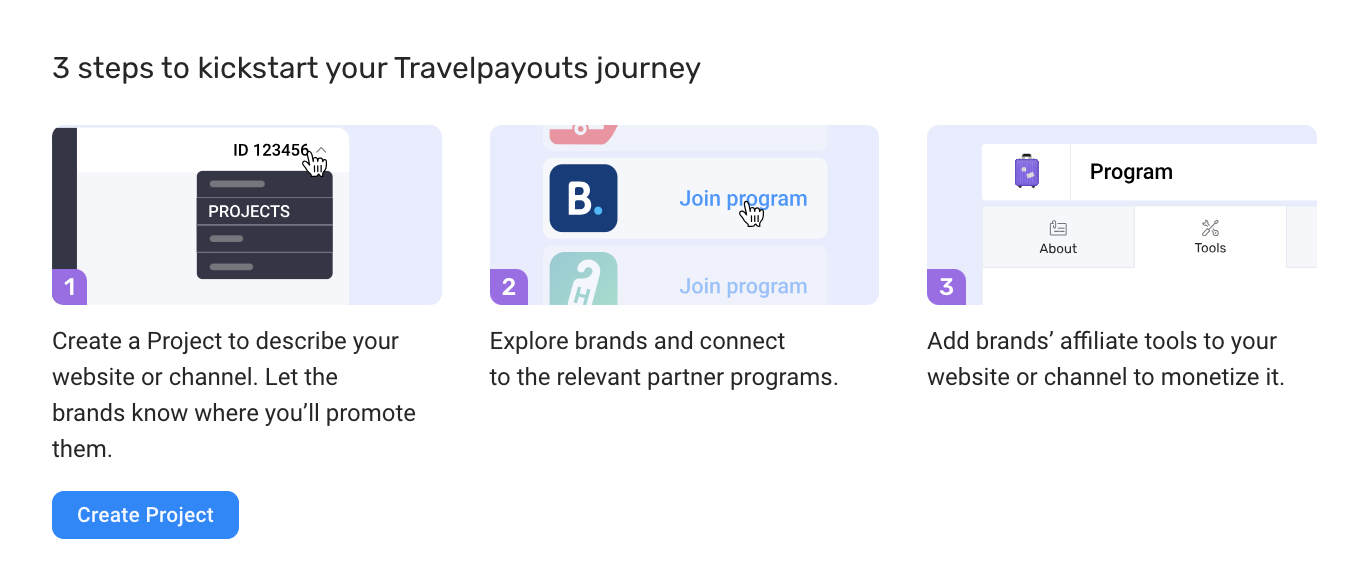 Let's explore what each and every step means.
2. Add information about your channels
To be able to connect to programs and gain access to affiliate tools, you need to add information to your profile about your promotional channels. They can be websites, social media pages, YouTube channels, email newsletters, etc.
In Travelpayouts, we use the term Project to define the sources of traffic where partners are placing affiliate tools. So, as a next step, you need to create a Project and provide details about the promotional channels you plan to use.
Learn more about Projects and how to create one in the Projects article.
To help you decide which type of Project suits you best, check out our Project Types article.
3. Connect to affiliate programs
You'll find tons of brands working with airfare, transfers, excursions, insurance, car rentals, etc. in our Travelpayouts program catalog. The programs differ not only in the types of services they provide, but also in their terms and conditions, rewards, and available tools.
Note that you'll only be able to access affiliate tools and start placing them on your promotional channels after you connect to an affiliate program.
The following articles will help you with this step:
4. Choose affiliate tools
Affiliate programs on the Travelpayouts platform include the following tools:
Each program has its own set of tools. To see the list of available tools, open the description of any connected program and click the Tools tab.
When selecting a tool, it is best to avoid limiting yourself and use multiple options. Individuals absorb information in various ways. Some are more likely to click on a link, while others pay more attention to widgets. To determine which tools work best for your audience, consider combining different types of tools.
Your channel will also impact what tools you use. For example, you need to have your own website to use White Label.
If you're just getting started with Travelpayouts, we recommend using links and widgets.
5. Place tools on your channels
Once you've picked your tools, you can start placing them on your website, blog, or other channel. Read our article on How to start using affiliate tools for tips.
We've also created How to use affiliate tools: the ultimate guide for travel publishers, where you'll find expert advice on how to effectively place various affiliate tools, such as links, widgets, and banners.
6. Make test clicks or bookings to see how they appear in your statistics
In the Reports section on your affiliate dashboard, you'll see all the statistics for your placed tools, e.g. how many times they've been viewed and clicked on, how many purchases have been made, and your expected reward amount.
After a tool is placed, you can check it to make sure it's working. That will also allow you to check how the statistics report is updated. To do that:
Read our articles on this topic for a deep dive into how statistics and reports work:
7. Add information about payout methods
You'll receive rewards for all paid bookings made through your affiliate tools that appear in "Confirmed" status in your statistics. You can receive your payouts in several ways. Read our Payout methods article to learn more.
Please note that available payout methods may vary depending on your selected country of residence.
8. Learn the rules for receiving payouts
There is a minimum payout amount for each method, meaning you can only receive a payout once your balance reaches a certain amount. Your balance and the amount to be paid out are constantly updated at the top of the screen.
You can learn more in the When shall I expect my payout? article.
Information about payout transactions is saved in the Payment report.
Now you're all set! We're really excited to welcome you to Travelpayouts and wish you well on your affiliate journey!
We also strongly recommend checking out the Travelpayouts 101 course in our Academy. It provides short videos that will walk you through every step of earning with Travelpayouts, from understanding the basics of affiliate marketing to receiving your first payment.
Other useful links
Don't forget, we're here to help! If you can't find an answer to your question in our Help Center, please submit a request to the support team and we'll get back to you shortly.