This post explains what bloggers need to know in order to start working with Travelpayouts.
Travelpayouts is a digital partnership platform dedicated to all things travel. Trusted brands, such as Booking.com, TripAdvisor, and GetYourGuide, work together with over 300,000 bloggers and content creators around the world to offer the best travel deals.
Bloggers with an audience of any size can join Travelpayouts for free. Whether you have a personal travel diary, standalone blog, or Instagram page, Travelpayouts is the right platform to monetize your content by recommending trusted brands to your audience. You will receive income every time someone buys a flight ticket, books a hotel, or purchases another travel service based on your recommendation.
What You Should Know About Travelpayouts
Travelpayouts is a digital partnership platform with a human-first approach. We bring together many travel brands, including Booking.com, TripAdvisor, and GetYourGuide, and others.

Brands share commissions with partners for each sale — based on the service prices (for example, 6% of car rental cost) or based on the brand's profits (for example, 50% of the profit from the sale of a flight). Reward rates and other conditions​​ are available

in each affiliate program description on the Travelpayouts account

(you must be signed in to view the rates).

Payouts are made automatically, once a month, from the 11th to the 20th. You can receive the reward you have earned in a way that is convenient for you. Additional details can be found in the

"Revenue — General Information"

section.

A wide range of tools is available to help you monetize your content, including links, banners, search forms, and more. All tools are free to use and available immediately after registration and connected to the program. We don't charge anything to connect to the platform.
Since your audience can cancel a booking, in most cases, you will receive a commission shortly after the service has been completed. For example, after the guest checks out of the hotel or once the guided tour is finished.

The sale will be credited to you in most cases within 30 days of a user visiting the brand's website based on your recommendation. Even if the person left the brand's site, but returned

during the cookie lifetime

, such a sale would still be credited to you. Some brands offer extended periods, such as 365 days at

DiscoverCars

. The exact cookie lifetime is indicated in the description of each program in your personal account.
Join Travelpayouts to gain access to powerful affiliate tools as well as the affiliate programs of over 100 travel brands. This will allow you to try our tips in practice.
Easy Tips to Earn More on Travel Content with Travelpayouts
Recommend a certain destination, hotel, or offer for the best conversion rate. Don't refer users to the homepage of the advertiser's website hoping that they'll buy something. Users want to learn about the exact deal presented in the post and not simply scroll through endless offers on the advertiser's website.

Use information from the brand's news feed to write content that will attract your readers. For example, mention promotions and discounts being offered by popular travel brands.

Explain what users should do and how they will benefit from clicking on affiliate tools. Add a brief call to action, such as "Below, you can find the best ticket prices during your holiday". Without a call to action, the user might think that your link or widget is a useless advertisement and will either not click it or will go to another website.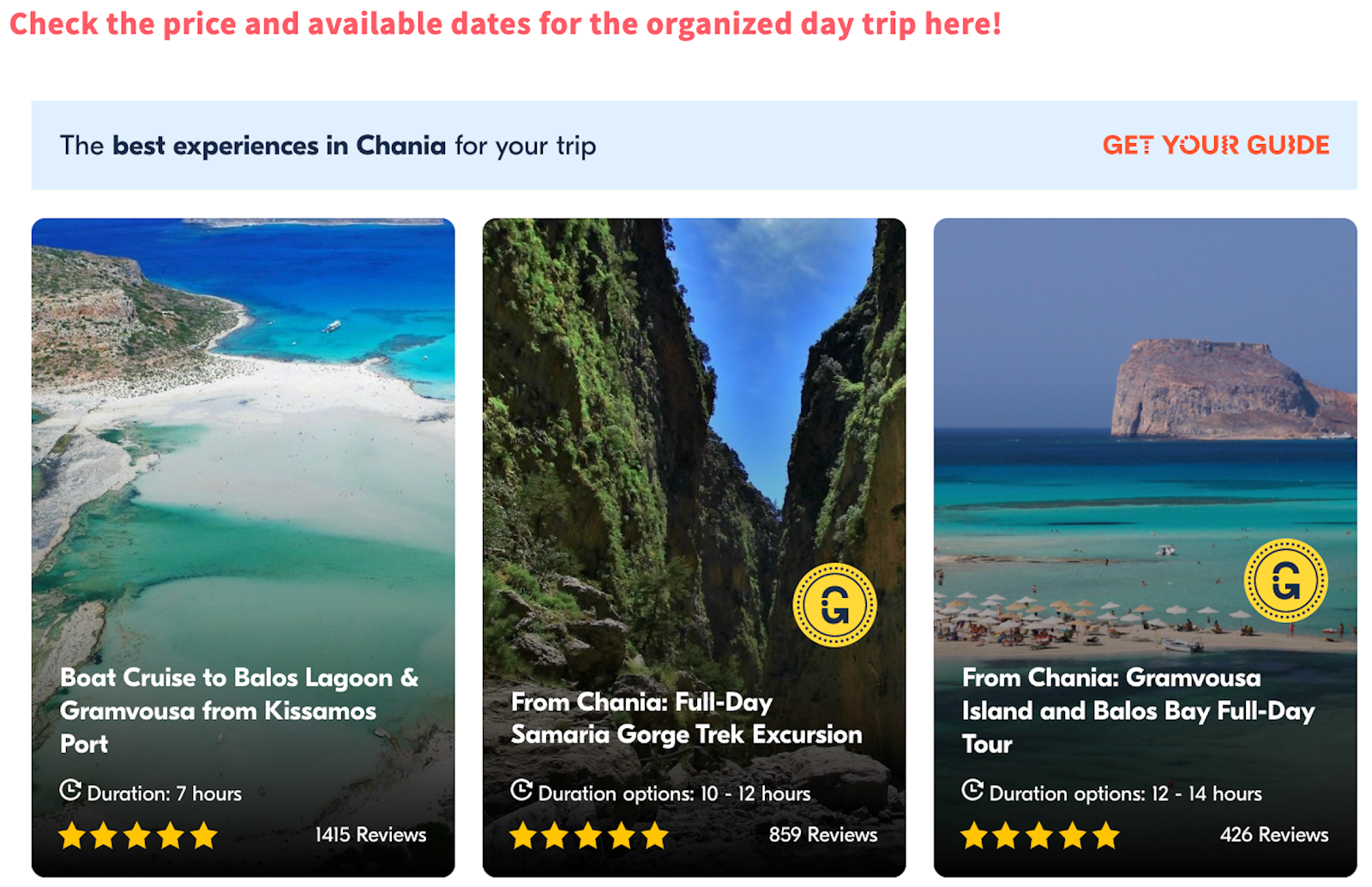 Call to action before the GetYourGuide widget on the Wandernity website.
Add affiliate links as buttons or integrate them into your text. But don't forget to highlight these buttons in a bright color to make sure users understand that the link is clickable.

If your post is dedicated to a certain city, insert that city's name into the search forms or widgets. If you tell a story about a certain hotel, suggest a link to that hotel, or better yet, use the services widget. For example, the hotels widget from the

Hotellook affiliate program

, the tour widget

from Viator

, the flight schedule widget

from Aviasales

, etc. This will increase the conversion rate and your profits. Always fill in the widgets. Users don't have time to enter even a few words, so help them as much as possible.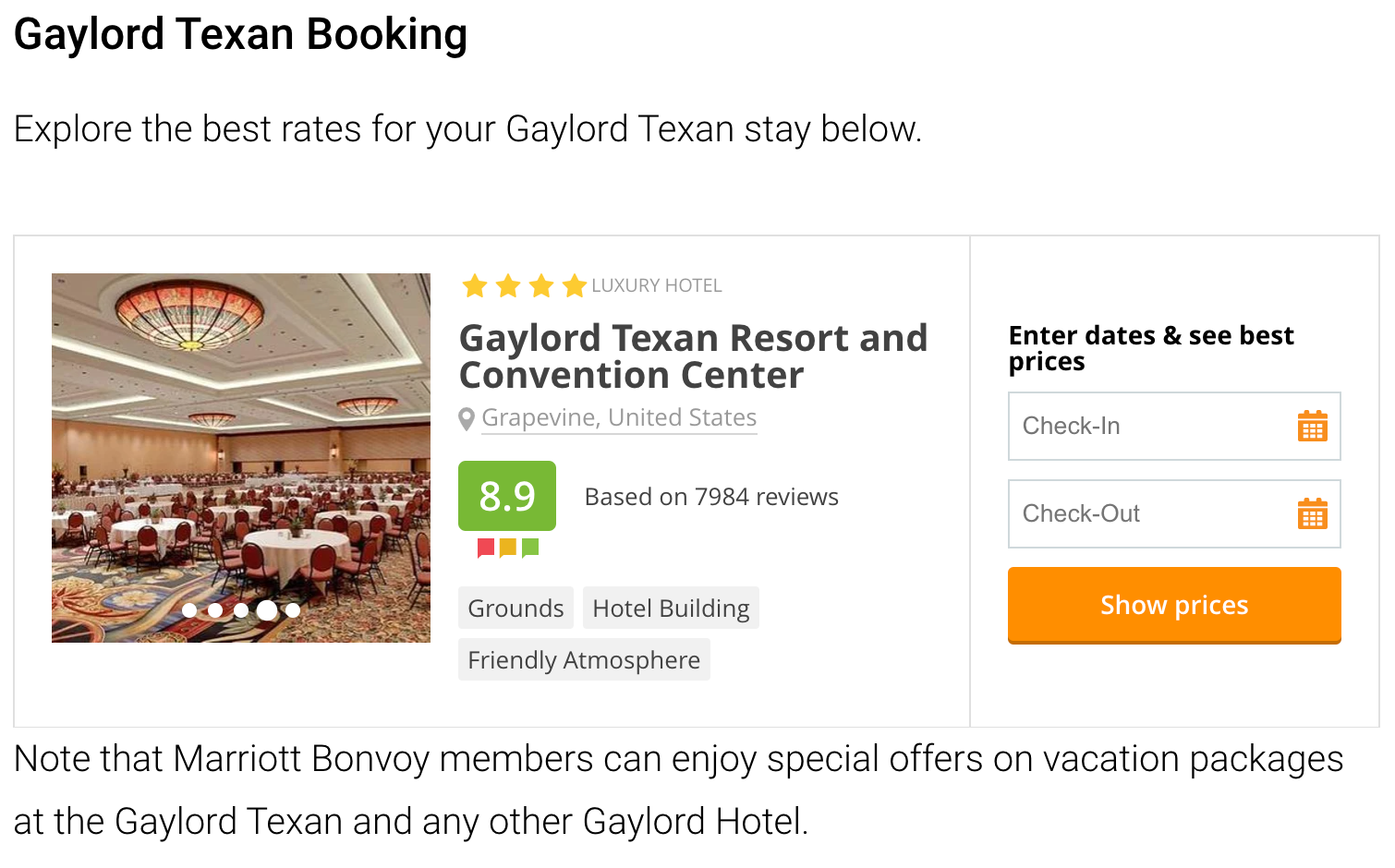 Booking.com hotel widget on the Afrostylicity website
Use several widgets on each page. For example, place a search form in the middle and a special offers widget at the end of a post. These tools are available

for the Kiwi.com affiliate program

.

Don't add widgets at the top of a page or in the sidebar. Users might not even pay attention to the sidebar due to "banner blindness". In addition, if a user has a slow internet connection, the widget at the top of the page may not have time to download. Furthermore, visitors may not see the widget and might simply scroll down the page.

Try different partner tools on the page. Write down and compare your results to find the most profitable approaches for your project.

Create your own travel app. Mobile users may find it easier and faster to search for travel services via a mobile application, rather than via a mobile version of the website. You can use our

Travelpayouts Travel App

for iOS or Android, an app template for flights and hotels search, which can be used as the basis for your application or altered to change the main settings. When your readers buy a flight ticket or book hotels via your app, you will be rewarded according to the terms of the brand affiliate program.
More Useful Information to Start Earning with Travelpayouts
All the available tools are described in the Affiliate Tools sections of the Help Center.
If the ready-made tools are not enough, you can always benefit from our API, which will increase your opportunities and provide different statistics. You can learn all the details from the API and data section.
For starters, take a look at the following articles, which provide step-by-step introductions:
What is Travelpayouts and how it works
Join Travelpayouts right now and feel free to contact our Support Team if you still have questions.